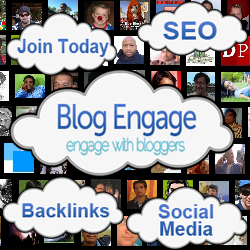 When looking for a product or service, the first thing I ask myself is "what is the value of this service/product and how could it help me?"
If I find that a particular product or service that I like I will purchase it or add it to the wish list. Then I do my best to share that product/service with my friends, clients, and my site visitors.
When it comes to new media, I have a strict list of products, services, resources that I use and recommend. Of that list, one product I find helpful is the Blog Engage Syndication program. This program helps website owners distribute their blog articles automatically to the Blog Engage Social Network and partnered sites.
What is Blog Engage?
I have talked about Blog Engage in the past but for those haven't heard of Blog Engage, it's a social bookmarking site for bloggers and more. When I first found the site (about 3 years ago), it was still in early stages of creation and hadn't been around that long. But now, its not only a place for bloggers share their work and network, it's a place where you can build connections, make friends, learn more, and build backlinks across several different sites.
Blog Engage is currently a private membership community but with an RSS syndication membership the membership fee is waived. Once you become a member, you can join the Affiliate Lights affiliate program. With this program, you can recommend the Blog Engage Service to your readers as well and make back that money you spend each month on service.

How Well Does Blog Engage Work?
In my opinion, Blog Engage can work great for any blogger and for any niche. However, I have noticed that design oriented sites do not do as well as blogging, SEO, social media and making money blogs do. But that is only because there aren't that many designers using the network. As the site grows and more design blogs become aware of the site and its value, it will be a great service for design blogs. As for other niche, there are quite a few doing great on there. Just don't take my word for it, check out this great article from Justin DragonBlogger.Com on how much of a value the Blog Engage Network is to him and his websites.
Just remember, Blog Engage is a social community and just a place to drop your links and run. In order to get the traffic and to network with other bloggers you need to spend time engaging with the community. Use the website to vote on articles, comment on submitted articles, and spend a little time in the private Facebook group pages. If you start loosing traffic from the community, like I have, it means you aren't spending the time on the site. If this is happening to you or it happened to you in the past and you stopped the service, try engaging with the community and see if that helps you build more traffic.
How Much Does the Blog Engage RSS Syndication Service Cost?
I took a screenshot of the pricing page of Blog Engage (6/11/2012) for current prices and to purchase a service plan, check out Blog Engage.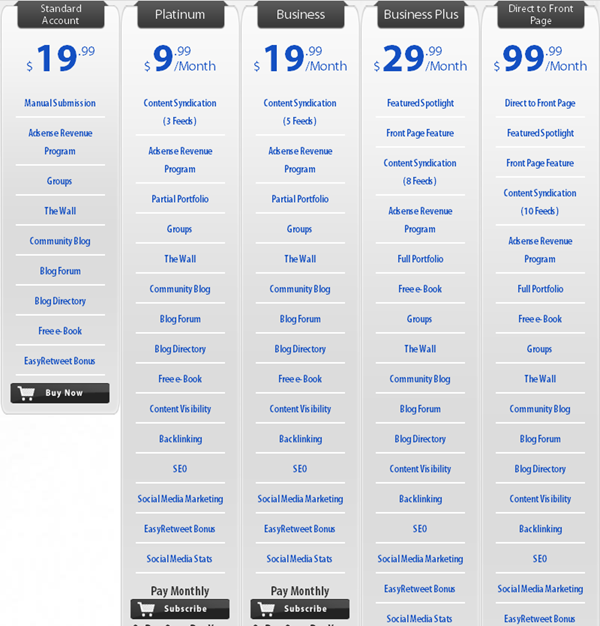 Are You Using Blog Engage RSS Syndication?
If you are using the service, let us know what you think of the service and share your results with us.
Please follow and like us: