Disclosure: We are a professional review site that receives compensation from the companies whose products we review. We test each product thoroughly and give high marks to only the very best. We are independently owned and the opinions expressed here are our own.
In the design world the most popular image editor and design tool is PhotoShop. With PhotoShop being the most popular tool for designers available, Most designers and design bloggers use and create resources for PhotoShop only. But PhotoShop isn't the only image editor available. Out of all the of the editors available for people to use, GIMP comes out on top and might be considered to be as good or better than PhotoShop by some.  For those interested in design or working on their own images or logos, GIMP is the perfect tool and the only investment a website owner / blogger needs to make towards GIMP is time. GIMP is free, but it does come with a cost. You have to the time and the ability to learn how to use GIMP on your own. Once you know the basics of GIMP, you can start using GIMP like a designer.
With PhotoShop becoming more popular and all the PhotoShop resources available for designers, GIMP has made it possible for some of those PhotoShop resources to work with GIMP. One of those resources are brushes. Even though there is a community for GIMP brush creators, GIMP made it possible use PhotoShop brushes with GIMP and isn't much harder to install a new set of brushes than it is with PhotoShop.
Today, I wanted to share with everyone how to install PhotoShop Brushes and GIMP brushes in GIMP.
How to Install Brushes in GIMP
Installing brushes in GIMP is quick and easy. To use PhotoShop Brushes in GIMP, you must be using GIMP 2.4 or higher.
Using Windows Vista / Windows 7
1. Download your PhotoShop or GIMP Brush
2. Make sure GIMP is closed.
3. Most Brushes are compressed and archived (zip or winRAR files.).  Extract files from the archive.
4. Copy the extracted files to C:\Document and Settings\<username>\gimp-<version>\brushes\. This installation location is default but if you installed GIMP somewhere else, you will have to find the GIMP folder and look for the folder called brushes. The brushes should be. ABR files. You only need to move those files with .ABR extension.
5. Copy Past or drag brush files from the extracted brush archive file.
6. Open GIMP
7. Select the Brush Tool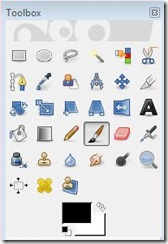 8. Brush Selection Windows comes up. If you do not see your new brushes added to brush library. Then click on the Refresh button and then should load.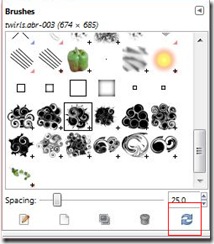 Final Thoughts
As mentioned before, PhotoShop is my preferred image editor, I do end up using GIMP a lot more when I working on a design project on a public computer or on a system that is a little older and can not run on the machine that I am using. Using brushes can speed up the design process or it can help a user that doesn't know how to create a certain effect that they may not know how to recreate.
If you are looking for an image editor that you can load on a flash drive or portable drive. You are in luck GIMP offers a portable version you can use. All you need is Window's Operating  System, portable drive, and Portable Apps installed on that drive. Then you can run GIMP on almost computer that has a USB drive.
Please follow and like us: