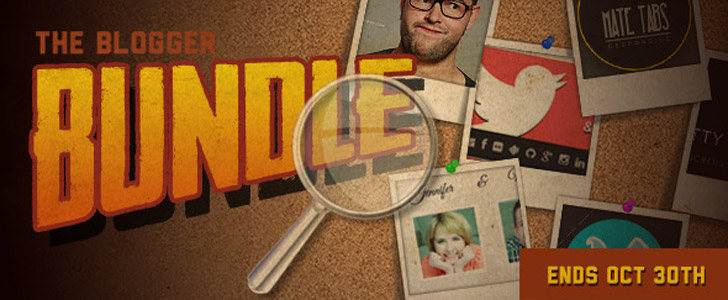 Are you looking to start your own blog or just trying to boost your current blog with new themes, plugins, icons, and other design elements? If so, you might have come to the conclusion that this can get expensive. To help cut back on the cost of building a better blog, Envato Bundles has put together a bundle of premium resources and tools for bloggers, all found in the Envato Market Place.
This bundle is only available for a limited time. This great bundle ends on October 30th, 2013. So make sure to check it out now.
The Blogger Bundle Details
Information taken from Bundle site…
The Blogger Bundle contains 45 items for your blog, including themes, plugins, icons, design elements and stock photos.
Every item has been reviewed and re-reviewed to make sure that you're getting quality items for your blog.
The Bundle will run for 14 days, from 12pm AEDT 16th of October until 12pm AEDT the 30th of October , so be quick!
Please Note: Due to the exclusive nature of the Blogger Bundle, the Bundle items are purchased 'as-is', meaning no Bundle files are eligible for item support or updates.
Click here to get the Blogger Bundle
Please follow and like us: