Mobile marketing is all the rage these days, and we can confidently state that there is much more to this thing than hype. Statistics show that mobile makes up 10% of the world's internet usage. That may not seem like a significant number, but it indicates how fast the phenomenon is penetrating through the global internet. What is no doubt impressive is data from another source that shows internet access via mobile device will overtake fixed connections by 2014.
Embracing the mobile marketing revolution is more than creating a mobile website. While that is certainly a step in the right direction, it's more about having the right tools at your disposal and putting them to use. Here are five tools with so much potential, they should at the very least, be on the radar.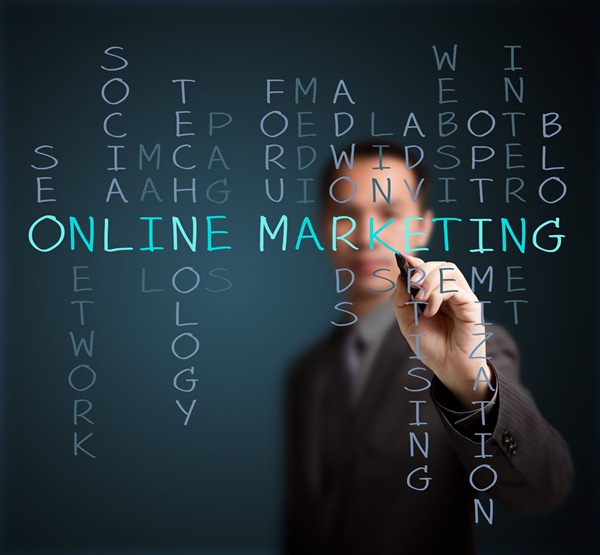 Image credit: Stock Photo – business man writing online marketing concept
1. Twitter
Most of us know Twitter is the second biggest name in social media. What you may not know is that it has one of the strongest mobile influences of any social site. In fact, roughly half of its user base interacts with the platform via mobile. That's great news because it essentially means that you don't have to do anything other than what has already proven to work for other marketers. The straightforward approach of sending out interesting, engaging tweets that encourage followers to retweet can work wonders in terms of reach and awareness.
2. DudaMobile
People are not only increasingly searching for companies via mobile devices, they're coming to their websites to do business. Even if it's just looking for information, those visits could result in leads and eventually sales later down the road. DudaMobile is a service that helps you capitalize on that activity by converting your existing site to one that is optimized for mobile traffic. It supplies a nice a collection of templates to simplify site creation as well as several tools for creating an optimal experience for your mobile audience.
3. Email
Email has become the preferred method of communication for businesses and consumers alike, including those using mobile devices. In fact, research shows than the number of mobile email users has surpassed those using desktops. Being able to reach your subscribers while they're equipped with a smartphone introduces a whole new dynamic. They can watch video, download apps, share, shop and do a host of other things that could benefit your marketing efforts. If there is one must-have tool on the list, this may be it.
4. Click-to-Call
Offered by Google and other vendors, Click-to-Call is an increasingly popular feature that allows users to call your business by clicking a button on their mobile device. This function is pretty flexible as it can be incorporated in your ads, websites, and even email campaigns. More advanced solutions capture extensive details on the process, so you can study data and make improvements in the future. For now, Click-to-Call is generating impressive results in key performance areas such as conversions and customer satisfaction.
5. QR Codes
QR codes are an interesting concept with a lot potential, especially in the mobile sector. These two dimensional bar codes can be scanned with many of the popular smartphones and are surprisingly easy to create thanks to a growing number of free generators. The problem several marketers are currently having is maximizing their potential. That's because they are not connecting them to something valuable. If you want to make QR codes work, you need to give mobile users a reason to care about them. Here are a few ideas:
Put them on your business cards
Slap one on a display at your physical place of business to promote online availability
Print them on T-shirts to create brand awareness
Put them on labels to influence purchasing decisions
The true value of the QR code concept lies in its ability to connect the brick and mortar world with the internet realm. Keeping that in mind could be handy when it comes time to draw up your marketing strategy.
Are You Prepared?
We have only seen a small sample of what the mobile channel is capable of. All the marketing perks we were hearing about for years are just starting to be realized. When you head out into the field, you'll definitely want to have tools such as these at your side.
Is your marketing strategy prepared for mobile? What tools are you using to make an impact?
Sources:
This article was written by a guest writer and Evolutionary Designs may or may not agree with what is written. Please contact us if you have any questions about the writer or if you want to guest write for us.
Author Bio:
Francis Santos is a writer for Benchmark Email, a best practices email marketing company.
Please follow and like us: