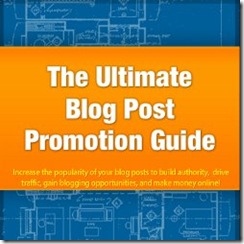 As most website and blog owners know, the best way to get traffic to your site is through website and article promotion. There are many ways to promote your articles. With there being so many ways to promoting an article, a blog owner should never just use one method. They need to use a variety of methods and tools to build traffic and promote their sites.
When I first started in web design, I didn't know much about website promotion. I wasn't a marketer and I had never heard of SEO (Search Engine Optimization). Mostly used forums and commented on sites related to my niche.  I had thought these were the only wait to get traffic for a site. But I slowly learn there a lot of ways to get traffic.
So when I started my latest project, Evolutionary Designs, I decided to use my new skills and interests in SEO as a test bed to see how well it works. I found that SEO works great, but you need more than just SEO to have a successful blog. So I added social media and commenting to my traffic generation strategy. Once I started using those new methods, I realized that I loved building traffic and wanted to learn more. Now I can't get enough of traffic generating strategies. I am always looking for new books, eBooks and articles on traffic building and blog promotion.
After a few months of getting traffic from commenting and social media usage I decided it was time to step up the process and look for more ways to get traffic.
The Ultimate Blog Promotion Guide
Recently I came across, a great eBook by Kristi Hines called the The Ultimate Blog Post Promotion Guide. I have been reading Kristi's articles on her Site Kikolani.com for a while, and I follow her around to other sites she writes for. Although I rarely comment on her articles, she does a great job and they are always helpful. Plus her articles always generate a lot of comments and retweets.
So when I heard she was coming out with a new eBook, I was excited and wanted to know more on how she promotes her work. I know that her work has always been good, but I am very cautious when it comes to purchasing eBooks, especially when its related to blogging and online website promotion. A lot of the eBooks I have read on these topics haven't worth it and are junk.
So I decided to wait for the reviews of the book.  I looked at the reviews from some of my favorite and trusted blogging friends. As I thought would happened, they all gave good reviews and say its worth the buy.
So now that I know about those reviews, I have added the book to my listed of books that I want to read.
So How Does Ultimate Blog Promotion Guide Help Us?
"Blog Post Promotion: The Ultimate Guide will take you through ten different strategies you can use to successfully promote your blog posts, leading to more social shares, more comments, and much more traffic."
This book well also help you find other ways to promote your content such as using instant messenger, social networks, question and answer sites, and other lesser known ways to get traffic.
So if you are looking for new ways to promote your site and its content, then this is the book for you.
Final Thoughts
Although I haven't had the chance to read this book, I do think this will be a good book to read. As mentioned before, I am planning to purchase and read this book in the near future.
This article isn't really a review, but an introduction to a new product that I believe will help new and struggling bloggers build traffic. Once I get my hands on this book I will do a review and share my results with everyone.
Please follow and like us: