It's now December, so its time for Evolutionary Designs' monthly Photoshop Tutorial collection. the last few months have been crazy busy so some of our regular articles were not posted on time. One of our regular articles is the monthly Photoshop tutorial collection and I hope to get us caught up soon.  With that being said, I hope to post four months worth of Photoshop tutorial collections to help catch us up.
As with previous collections, we look for only the best Photoshop tutorials created each month. Not just a large collection of all the tutorials created during the month. There are plenty of other design sites doing that. At Evolutionary Designs, we choose to share only articles that are helpful to our readers or just plain cool.
If you are a Photoshop tutorial writer, start commenting on these articles so we can find your awesome tutorials, if they are what our readers are looking for, then we will share your articles. If you are looking for a place to create killer tutorials, we are excepting guest writers and staff writers to submit articles for publications. Please contact us for details!
Photoshop Tutorials Created in July
September was a great month for Photoshop tutorials. There were a lot of beginner, and intermediate level photo manipulation tutorials created. Out of those created, I found 12 great tutorials for this month's collection. There are a mixture of beginner and intermediate level tutorials for you to try out. Check them out, give them a try, and let us know what you thought in the comment section.
Note: Images used throughout this collection are previews from each tutorial. If you are the owner of these images or if you do not want your tutorial listed on any of our collections, please contact us and we can remove them.
Create Surreal Planetary Object in Photoshop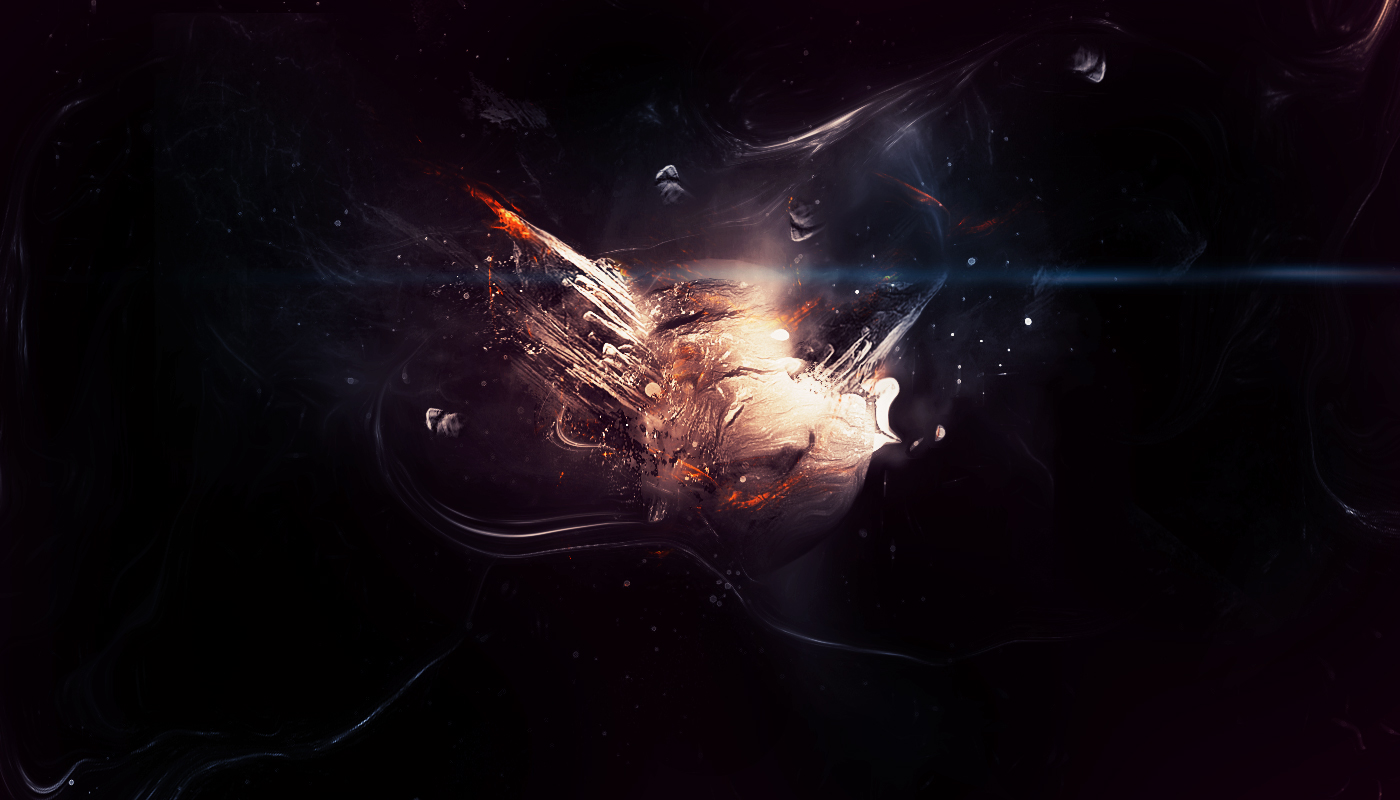 "In this Photoshop tutorial, I will show you the process of creating this awesome looking, surreal planetary object in Photoshop. Along the way, we will use the 3D function in Photoshop CS6 to render the base sphere, as well as the use of clipping masks for applying the textures over the 3D render. We will use a number of selection tools and free transform tools during the process. Various layer blending modes will be applied to achieve the best result possible." This is an intermediate tutorial.
Artistic Photo Manipulation with Cracked Face Effect in Photoshop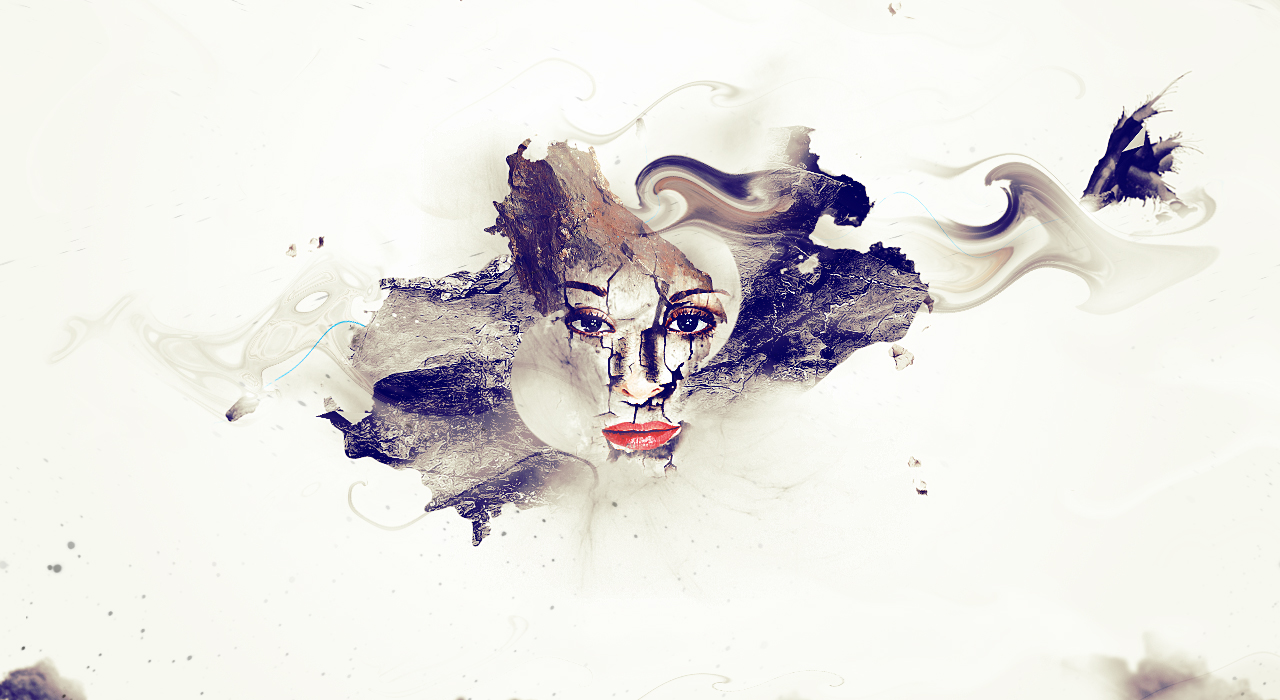 "In this Photoshop tutorial, I will show you the process of creating this Artistic Photo Manipulation with Cracked Face Effect in Photoshop. We will practice a number of layer masking techniques and image adjustment tricks along the way, as well as applying some interesting filter effect to our image." This is an intermediate tutorial.
The Ultimate Guide to Adjustment Layers – Vibrance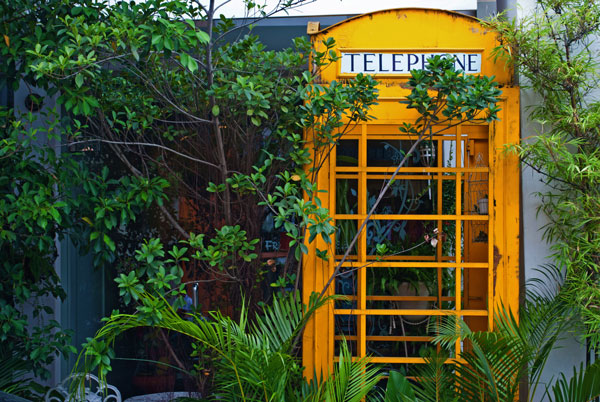 "Vibrance is a very useful Photoshop Adjustment Layer. In this tutorial, we will take a close look at the Vibrance Adjustment and will explain everything you need to know about it." This is a very easy beginner video tutorial.
10 Things You Must Know About Photoshop Brushes
"You might be surprised what you don't know about Photoshop Brushes. In this tutorial, we will cover the 10 most important things you must know about them. These tips cover several features including basic controls, keyboard shortcuts, brush settings, shape dynamics, scattering, turning images into brushes, and so much more." Brushes are an important part of Photoshop and this short video gives you some video beginner tips for the brush tool.
The Ultimate Guide to Adjustment Layers – Black & White
"In this tutorial, we will take a close look at the Black & White Adjustment Layer in Photoshop. We will compare it to other similar black and white conversion methods like Desaturate, Convert to Grayscale, as well as Photoshop's Camera RAW tools. We will also explain how to use the tint feature, as well as how to augment your Adjustment Layers using Layer Masks." This a beginner level.
Multi-Exposure Masking with Photoshop and Lightroom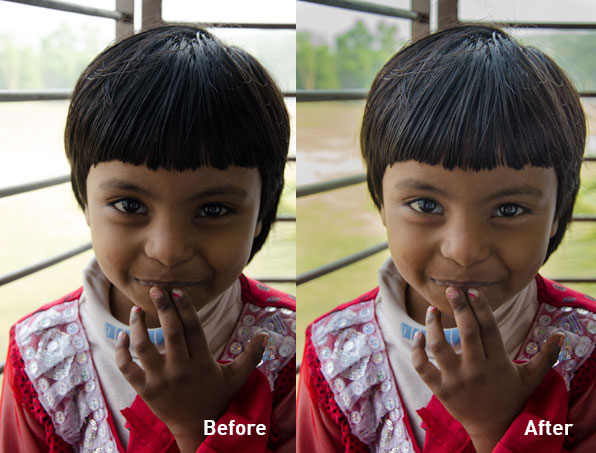 "In this tutorial, we will take a look at an interesting way to make the most of your Camera RAW photos using Lightroom and Photoshop using a technique that will allow you to precisely control the exposure of your photographs."  This is a very short and easy beginner level tutorial.
Add Dramatic Rain to a Photo in Photoshop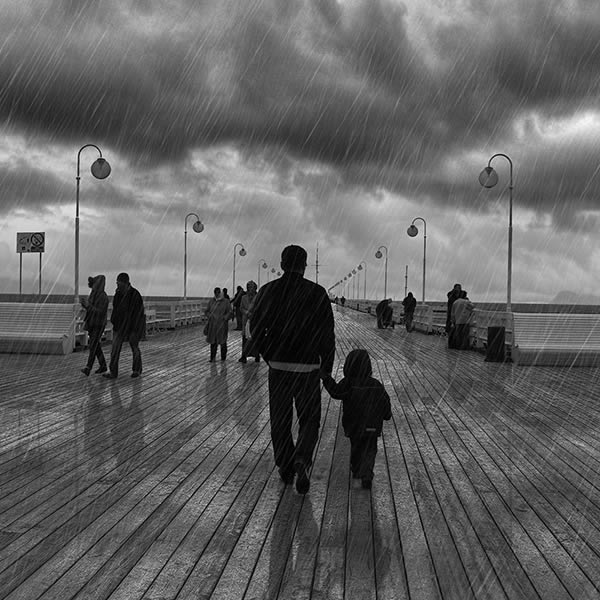 "In this tutorial, we will demonstrate how to add a dramatic rain effect to a photo in Photoshop. While rain effects are not new to Photoshop, we will go a step further and show how to make the image more photorealistic by adding reflections and small puddles." This is a fun and easy tutorial that only takes about an hour to complete.
How to Create an Amazing Watercolor Artwork in Photoshop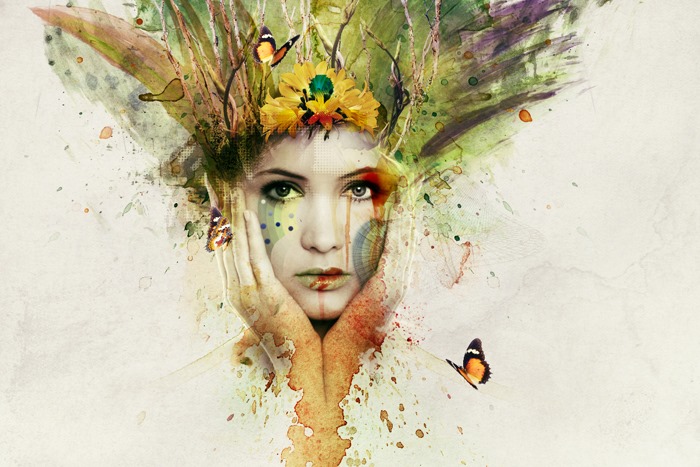 "Create this spring-inspired abstract photo manipulation by Jenny Le! This tutorial will show you how to combine stock photos and splatter brushes together, apply textures, and more." This is an intermediate level tutorial, but it isn't to hard to complete. Don't let this level difficulty stop you from trying out this tutorial.
Create This Gorgeous Moonlight Poster of a Girl Walking on a Railway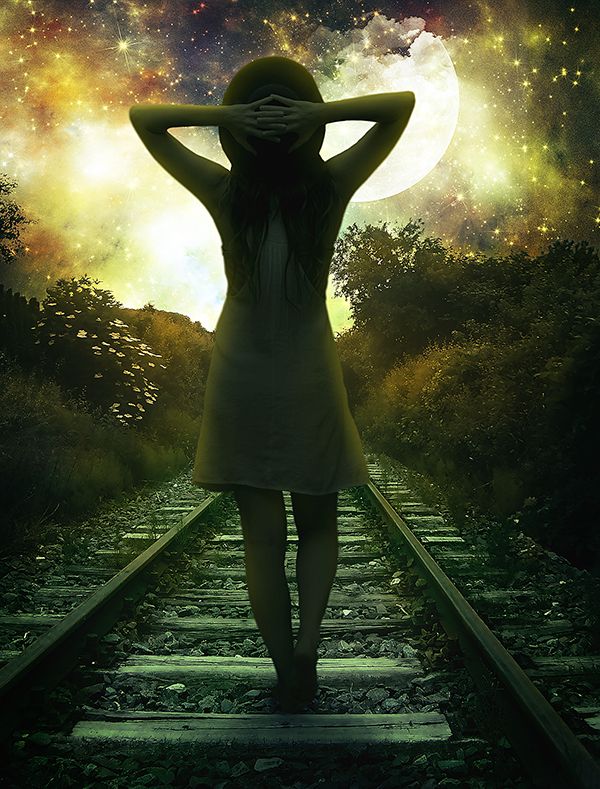 "Learn how to create this beautiful moonlight scene in Photoshop. This tutorial will teach you many great Photoshop techniques such as how to easily mask complex objects using channels, create your own astrophotography-like skies, and add surreal colors to the whole
Create a Mystic Lady Photo Manipulation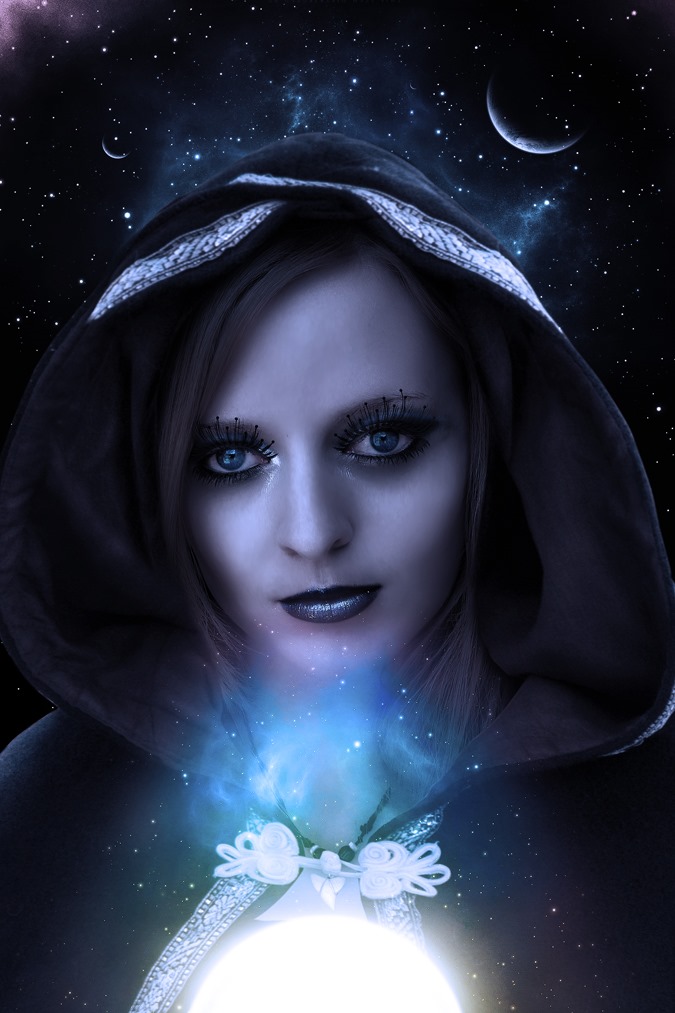 "Learn how manipulate a regular portrait photo into a mystic lady photo manipulation! This Photoshop tutorial will teach you the steps to retouching skin, adding eye and lip makeup, warping a gown over the subject, and finishing it up with many mystical effects." This is a beginner tutorial.
How to Create an Apocalyptic Sci-Fi Photo Manipulation in Photoshop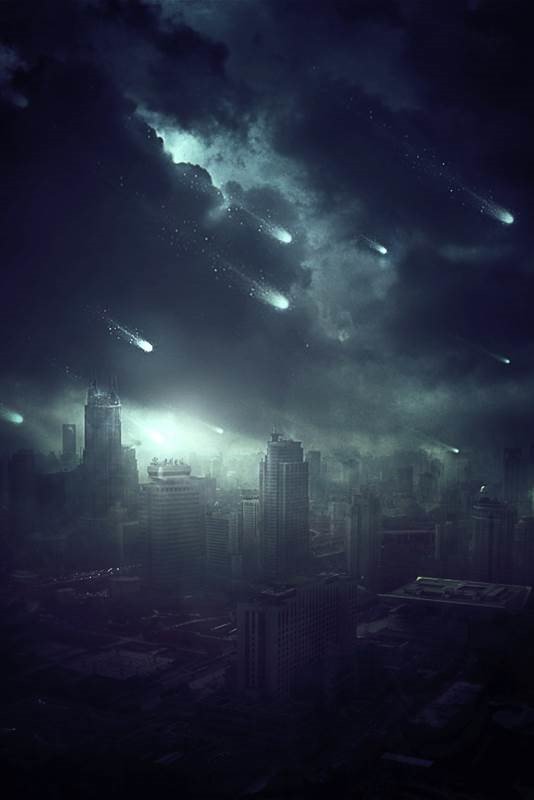 "Learn how to create this cinematic scene in quick and easy steps! This Photoshop tutorial will show you how to blend images to create an apocalyptic scene and add flying meteors with premade Photoshop brushes. You'll also learn several different ways to add lighting effects and create a strong atmosphere."  This is a beginner tutorial.
How To Enhance a Photo with Color & Lighting Effects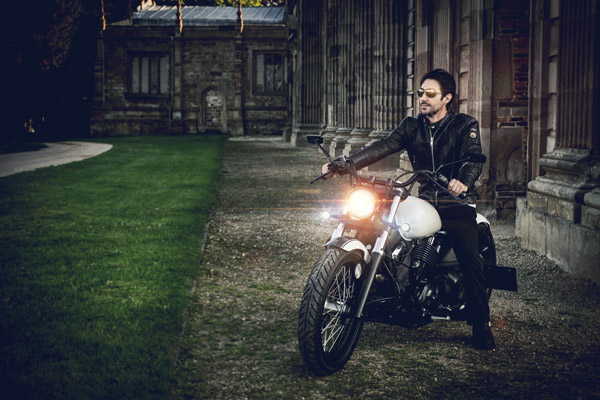 "Often when post-processing a photograph the aim is to carefully fine tune the levels and colour balance to capture the real life scene, but sometimes it's worth taking the edits a little further to enhance an image with hyper realistic effects. Applying colour casts, increasing the contrast and adding lighting effects can give an image an intense mood just like we see in magazines or on billboards." This is a great beginner tutorial that doesn't take to long to complete.
Please follow and like us: