On April 18th, 2013 Google announced that they were adding Google+ Comments to Blogger. After this announcement, developers figured out how to add Google+ Comments to non-blogger sites.
Recently, I read an article by Kim about how to install Google+ Comments on your WordPress site. She had some great information about integrating Google's comment system into your site.
About Google+ Comments
Google+ Comments isn't supported on other systems. So there's no support but those in the WordPress community for now. But I believe in the near future, Google support other systems. For now, this is their baby and they only wanted on their systems.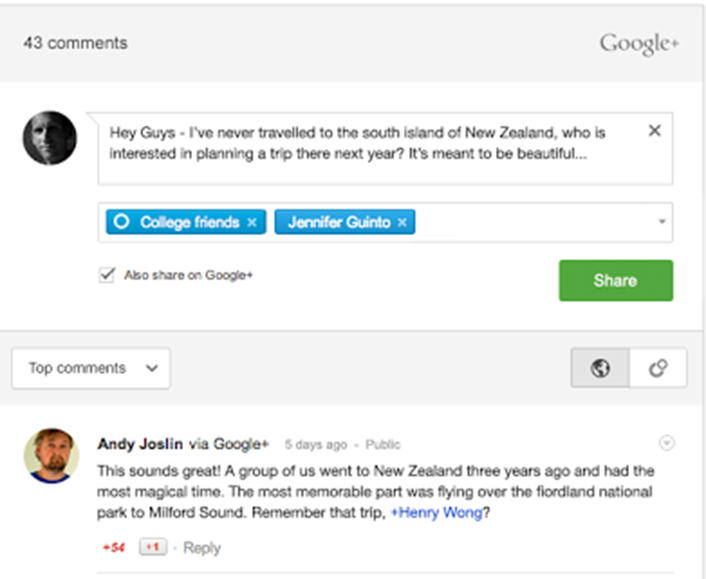 How to Add Google+ Comments to Any Website
Yesterday I read an article by  Kim Castleberry about how easy it is to add Google+ Comments to WordPress. After reading her article, I just had to try Google's new commetn system on Evolutionary Designs and my personal site.
In Kim's article, she mentioned a site that gives you the code so you can manually add the Google+ Comment system to any website. This little tutorial is easy to follow, if you are familiar with your site's theme layout, then you can easily add Google+ Comments to any site.
With WordPress, take the code provided in the tutorial and your site's URL and edit the WordPress Theme Template where you want the Google+ Comments to appear.
If you aren't comfortable with modifying your website's code or you do not know where to add the code in WordPress, there are few WordPress Plugins available and I am testing two of them out before mentioned them on here and on my personal site. Once I'm finished testing the plugins, I will review both plugins and let you know how well they worked.
Currently, I think I  will stick the default comment system with CommentLuv Premium and Facebook Comments for Evolutionary Designs for now.
Final Thoughts on Google+ Comments
After playing with Google+ Comments, I do like the system. It's has a modern and pleasing design that Facebook Comments do not. Once Google supports Google+ Comments for WordPress I may replace Facebook Comments for Google+ Comments
What I found interesting and helpful is, whenever someone shares your link, plus 1 the article, or comments on (from your site or any Google+ profile) it shows on the profile page. This is a great feature and helpful.
I was looking at an article I wrote over a week ago and noticed that someone on Google+ shared my article. I never knew he mentioned the article until the user shared the link to is friends. At that point, I was able to thank him for his share.
An issue I do see is, you can not moderate (at least not on WordPress) Google+ Comments. This might be an open invitation for comment spammers. But you can at least go in and remove the comments and report spammers just like you can in Google+.
Let me know your thoughts, concerns, or any new Google+ Comments for WordPress plugins you want me to check out, test, and review.
Please follow and like us: