Starting a business takes a lot of both time and money. And a professional website is one of those that require quite a bit of capital or time or both. If you have no technical knowledge, you'll spend loads of time trying to figure out a content management system or else spend a lot of money paying a professional. So what do you do if you have neither time nor money at your disposal?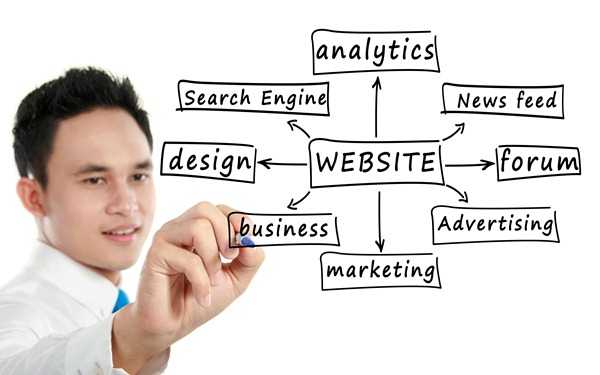 Image Credit: Stock Photo – business man writing component of website
The best way to solve this dilemma is to use a website builder. But use only those that will make your business look professional, not like you threw it up in only a matter of minutes – even if this is the case. The following are 5 of my favorite web builder sites. They all come with free versions and the ability to upgrade to a more beefy version later, once your business actually starts making you some moola. So take a look at the features of each and choose the one that will best represent your small business professionally.
WebStartToday.com
If you have absolutely zero experience with design and web development, WebStartToday is probably the best web builder tool for you. No coding is required and customization is as easy as selecting options or dragging and dropping items. In fact, it is entirely possible to create and publish your entire website in a matter of minutes. Best of all, you don't have to worry about the quality. All of the designs offered by WebStartToday look highly professional.
Not only can you choose from thousands of different designs in 72 verticals, but you can also select from several color themes. You can also make your page interactive by adding in video, audio, maps, and other options to encourage better engagement from customers. Do your photos need editing? The image editing tool is amazingly robust with plenty of options for improving and editing your photos. And future changes are easy to make with the CMS that comes with every design.
Another important part of website design is search engine optimization, and this web builder tool has you covered in this department. Every design comes with SEO tailored to your industry plus Google Analytics support. Also, there is no need for separate domain hosting, since WebStartToday provides hosting and personal domain name for your brand. Unlike most free web builder tools, this one allows for unlimited storage of data and a free trial for an entire year! After this, it's only $9.99/month or $99/year ($8.25/mo).
SimpleSite.com
With SimpleSite, you get a free trial for 30 days, and it is a super simple tool. They don't have as many options for designs as do other web builders, so this one may be best reserved for a blog or even a club's website. SimpleSite does provide ecommerce designs, so it also could be a great option for those testing out their arts and crafts startup. And with prices such as $20 for 3 months or $69 for an entire year, this web builder is definitely a great option for those with a very low budget.
To start your free trial, you simply choose from 11 color themes and 15 designs. Then you write your headline, upload a photo and use one of the stock photos, and create a username. Then your website is ready for you to add content. The basic package comes with 40 pages and albums, 300 photos, and 10 minutes of video content.
IMCreator.com
As a web builder that offers a free version for an unlimited amount of time, IMCreator is a great option. Keep in mind that your domain name will be i-m.co/username/sitename with the free version and you have limited storage space. A unique domain and unlimited space requires an upgrade to the Premium version, which is $9.99/mo with a biannual payment or less with a longer commitment.
As with other site builders, no coding is required with IMCreator. You simply drag and drop to customize your website. The designs are organized by industries, and each template has been designed by freelance web designers, which make them a little more unique. However, this also means there is not a huge selection from which to choose. Web designers can upgrade to a Pro version or even submit designs and receive a monthly income from use of their templates.
WebStarts.com
This is another website builder tool that allows a free version for an unlimited amount of time. Just as with other completely free web builders, WebStarts.com only provides a unique domain name with the upgraded versions (now discounted at $4.89/mo for Pro or $7.16/mo for Pro Plus). None of the versions provide unlimited storage and bandwidth, but the Pro Plus allows for 5000MB of storage and 100GB/mo, which is enough for most small business websites.
For ecommerce sites, WebStarts.com provides services for businesses to accept instant payments on their sites. And the Pro versions both give you a certain amount of advertising credits. All of the versions come with email and email support, but only the Pro Plus allows for a unique email address. Other features include forms (only for paid versions), hundreds of font styles, slideshows (for paid versions), photo galleries, drag and drop editing, a shopping cart, pre-loaded stock images, videos, widgets, and more. WebStarts templates are optimized for mobile for easy access to your website no matter the device.
While content is not optimized for search engines, WebStarts does provide an SEO wizard to help guide you through these steps. It also provides social media buttons to display on your pages and Google Site Maps support.
Intuit Web Builder
The same company that has created Quickbooks and other personal and business finance programs now offers a free web builder. Intuit's free website builder tool is not as robust as others – only 3 pages are included – but it does come with hundreds of designs and great support. Also, the Business and Business Plus versions include a free 30-day trial for sampling purposes.
The most popular version is the Business one, with 3 websites and 100 pages. You also get a customizable domain and email, ability to accept payments, a blog, and more. To make changes to a template, you simply point and click, and editing after publishing is easy. Social media integration is included. And while SEO is not free, you can get a free consultation with Intuit. They will then help you take the necessary steps for increasing your website's page rank and traffic. Intuit also provides help with local online marketing tactics, such as registering with Google Maps. Intuit definitely can be more costly for the paid versions than other web builders, but it does provide lots of add-ons and marketing help.
So take a look at each of these 5 web builder sites. They all come with different perks and downsides, so ultimately you will have to decide which option is best for you and your small business. And remember, if you really need a website with lots of bells and whistles or a highly customized design, a professional web developer will be your best option. For regular business websites, though, a website builder such as the ones listed above are an excellent way for small business owners to save both time and money at the forefront of their startups.
Please follow and like us: