Disclosure: We are a professional review site that receives compensation from the companies whose products we review. We test each product thoroughly and give high marks to only the very best. We are independently owned and the opinions expressed here are our own.
WordPress is so much more than just blogging software. In fact, WordPress is a powerful tool for a small businesses, whether initially realized or not. In this article, you are going to read how WordPress can be a valuable tool for small business photography success.
Portfolio
As a photographer, there is one thing more important than anything else. A portfolio should be the main focal point of any photographer's website. So the first thing a photographer running WordPress should look for is a WordPress gallery theme that showcases his/her work in a professional and elegant way.
The gallery theme should contain multiple styles so the photographer is not limited to just one. If the photographs are not small to fit in a blog style column, then a modal window should be used when an image is clicked. That way the photograph can enlarge to fill a visitor's screen on the fly.
If the theme decided on does not offer gallery functionality, then there is a very popular and powerful WordPress gallery plugin available with endless possibilities to showcase the photographer's portfolio.
eCommerce
Another very useful feature in WordPress for small businesses is eCommerce. There are so many eCommerce plugins available, that photographers can easily sell photos, and eBooks without needing a third-party service to distribute the product.
Sometimes, WordPress themes have eCommerce built-in, like the Photocrati theme does. Using this method means photographers have the ability to list their photographs for sale so clients can order prints. However, there are also a variety of free plugins that can get the job done, like Easy Digital Downloads which is designed to sell any form of digital media. With it, photographers can sell photographs with licensing options, eBooks or presets for B2B sales.
Proofing
Using NextGEN Gallery, the same WordPress gallery plugin mentioned before, photographers can create galleries for client proofing. One way to go about it is the following:
Install the NextGEN Gallery plugin and the NextGEN Download Gallery extension
Create a custom post type and CPT page template that is full width and hides anything that distracts the client from doing what they need
Embed the proofing gallery using the template=download option in your shortcode so a new download button appears.
Ask the client to download a ZIP of their selected photographs and email them.
NextGEN Gallery has a proofing option in the works, but until then this method works very well.
Invoicing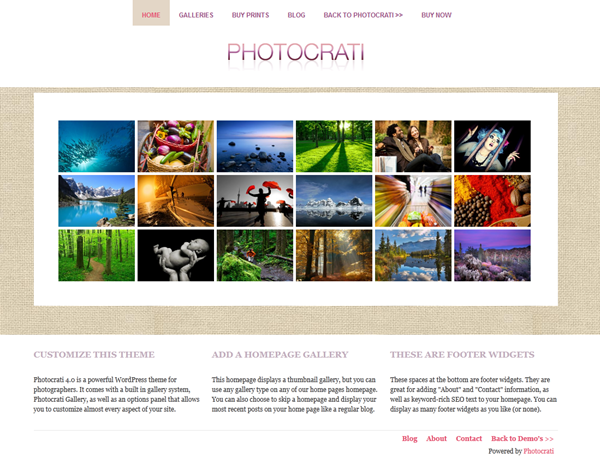 Photographers can often become overwhelmed and forget to take care of project (or session) tracking. Using a WordPress plugin, like WP-Invoice, photographers can easily create, send and maintain their invoices directly on their website. This does a few things for the small business.
Branding: customers do not have to look at a different website when viewing or paying their invoices.
Organization: the photographer doesn't have to think about multiple applications, or remember where invoices are kept. They're all in the same place the photographer shares his/her work and blogs.
Capturing leads is important to photographers, as any other small business. Having the right tool to capture leads is also important. That is why we recommend the Gravity Forms plugin. It's a simple (when you need it to be), yet flexible contact form plugin that really does get the job done efficiently. It has been tried and tested for many years and is by far the best contact form plugin available for WordPress.
With it, you can create contact forms, customer session questionnaires, testimonials submission forms, surveys or any other form you can think of.
In addition to just capturing leads, the plugin will let the website owner export the list to a CSV file for email marketing. Of course, like most other great WordPress plugins, there are many extensions available to further enhance the default features.
In Summary
To sum it up, there are five initial things to consider for small business photography & WordPress success. The first is finding the right WordPress theme that showcases the portfolio. Another is eCommerce functionality to sell digital and print work to clients. Having a way to manage proofing galleries will save on turn-around time. Invoicing is also important, not just for professionalism but also for tax time. Last, but not least is lead generation. Capturing the contact information from potential new customers is important because without customers, a small business will not succeed.
For more advice on a successful photography business and ways to utilize your WordPress website, pick up a copy of the free eBook, 10 Tips To Supercharge Your Photography Website.
Thanks for reading,
Scott
Author Bio
Scott Wyden Kivowitz is the Community & Blog Wrangler at Photocrati, developer of the WordPress theme for photographers, NextGEN Gallery and the Photographers SEO Community, teaching other photographers on how to increase business with their website. 
Please follow and like us: