It's now March, so its time for Evolutionary Designs monthly Photoshop Tutorial collection. As with previous collections, we look for only the best Photoshop tutorials created each month. Not just a large collection of all the tutorials created during the month. There are plenty of other design sites doing that. At Evolutionary Designs, we choose to share only articles that are helpful to our readers or just plain cool.
If you are Photoshop tutorial writer, start commenting on these articles so we can find your awesome tutorials, if they are what our readers are looking for, then we will share your articles. If you are looking for a place to create killer tutorials, we are excepting guest writers and staff writers to submit articles for publications. Please contact us for details!
Photoshop Tutorials Created in February
February had a few great tutorials that I just had to share with you. These tutorials are mostly beginner level Photoshop tutorials, but you find a few intermediate tutorials mixed in. You have some retouching tutorials, a retro sign creation tutorial, a gradient map tutorial, and a few photo manipulation tutorials.
So check them out, give them a try, and let us know what you thought in the comment section.
If you are interested in learning the basics of Photoshop, then check out this free ebook by Make Use Of. Even though this ebook was created on an older version of Photoshop, its still a great a tool to help you with learning the basics of Photoshop.
Note: Images used throughout this collection are previews from each tutorial. If you are the owner of these images or if you do not want your tutorial listed on of these collections, please contact us and we can remove them.
The Secrets of Photoshop's Retouching Tools (Part 4)
"In the fourth part of Martin Perhiniak's mini series on Photoshop's retouching tools, we will take cloning to a whole new level and will explain the powerful Clone Source Tool and the Clone Source Panel."  This is a beginner level tutorial.
Old Signage in Photoshop 3D
"This tutorial we will show you how to create a nice old signage effect using Photoshop and a stock photo. The whole process is pretty simple but the end result is quite nice. We will also create a simple animated gif in the end." This is a beginner level tutorial.
Love Me Photoshop Manipulation for Valentine Day
"Learn how to create a beautiful photo manipulation for Valentine's Day. You need some simple blending techniques like color matching and of course shadow and lighting. I am really curious to see your own interpretation of my love photo manipulation; as usual I am sure you will upload amazing Photoshop artworks. "  This is a intermediate level tutorial.
Photoshop Gradient Map Tutorial for Beginners
"One of the most useful Photoshop adjustment layer is the Gradient Map that you can use to enhance your photos. You can use a gradient map as a non invasive method in which you can change the color map of your image, adding multiple color effects. Using Photoshop gradients(GRD files) you can create virtually unlimited number of color effects."
Create a Colorful Retro Poster in Photoshop and Illustrator
"Take a photo and turn it into this amazing retro-style artwork using Photoshop and Illustrator. You'll learn how to create this using very few stock photos and with creative techniques that can also be used in your other designs. To follow this tutorial, you'll need to have some basic experience with Adobe Illustrator."  This an intermediate tutorial and you will need to be familiar with Illustrator to complete this tutorial.
Learn How to Create a Cyborg Warrior Being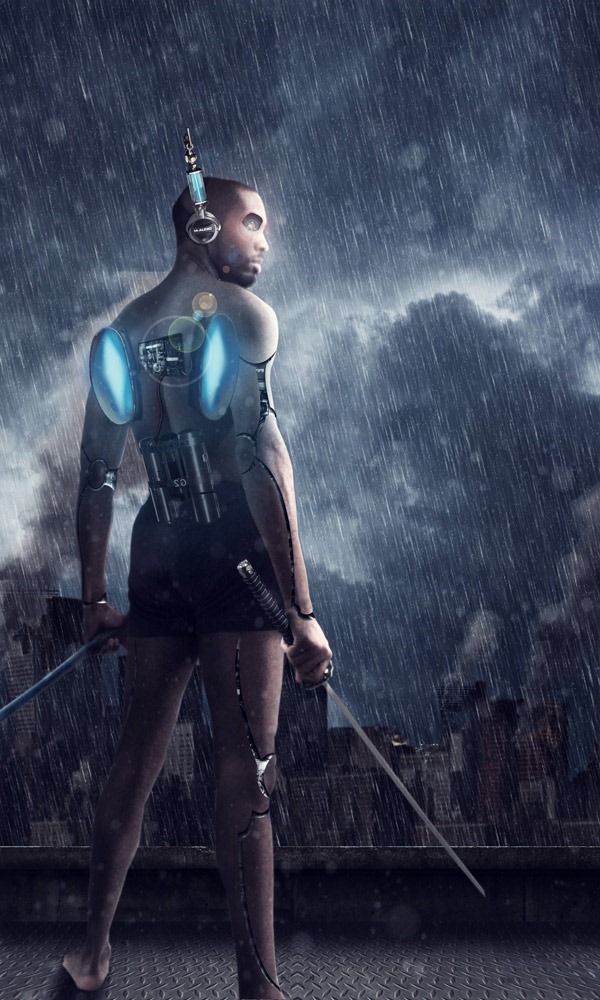 "You'll learn how to add a range of cyborg style effects to a human form, such as creating a jet-pack with realistic lighting effects. You'll also learn how to blend many different images together seamlessly to create a cohesive end scene." This is a fun not so realistic photo manipulation beginner level tutorial.
Create a Surreal, Scenic Photo Manipulation
"Follow through the steps in this tutorial to learn how to set mood to the scene, add lightning and sharpen your image correctly." This is a beginner level tutorial.
Please follow and like us: