It's the first week of January, so its time for Evolutionary Designs monthly Photoshop Tutorial collection. As with previous collections, we look for only the best Photoshop tutorials created each month. Not just a large collection of all the tutorials created during the month. There are plenty of other design sites doing that. At Evolutionary Designs, we choose to share only articles that are helpful to our readers or just plain cool.
If you are Photoshop tutorial writer, start commenting on these articles so we can find your awesome tutorials, if they are what our readers are looking for, then we will share your articles. If you are looking for a place to create killer tutorials, we are excepting guest writers and staff writers to submit articles for publications. Please contact us for details!
Photoshop Tutorials Created in December
December was a great month for Photoshop Tutorials! There were a lot of great tutorials and not all that many related Christmas. After checking out the tutorials created this month, I couldn't narrow it down to just ten tutorials. So for this month, I have shared fourteen great tutorials ranging from beginner level through advanced level tutorials.  There is even a link to a list of Photoshop tips and tricks worth checking out.
Man of Steel Symbol in Illustrator and Photoshop
"In this tutorial we will show you how to create the Superman, Man of Steel logo using Illustrator and Photoshop. We will also utilize some stock photos for textures and the original poster for reference. The whole process will take from 3-5 hours depending on your pace. In the end it will be really fun to create and well worth the time spent." This is an intermediate level tutorial since it uses both Photoshop and Illustrator. If you use Illustrator, then this tutorial would for an advanced beginner.
Easy Chalk Ornament Typography in Photoshop
"In this tutorial we will try to create a stylish ornament typography and then apply a chalkboard effect using Adobe Illustrator, Photoshop and some vector ornaments. The whole process is simple but time consuming, so I would take at least 3 hours to recreate this design." This is a beginner level tutorial.
More awesome Photoshop Secrets!
A great list of tips and tricks for Photoshop!
80s Christmas Artwork in Photoshop
"For this tutorial we will create a image using basic filters and effects to create a nice vinage effect. The fonts used are Avant Garde and FreestyleScrD." Another great beginner level tutorial.
Photoshop Video Tutorial: How to Install and Use Photoshop Brushes
"Photoshop brushes have evolved over the years and designers now use them as a fast and easy way to place clipart and shapes into their artwork. There are thousands of free Photoshop brush sets you can download and more every day! Watch this video and learn how to install Photoshop brushes, use advance colorizing techniques to get the best results, and blend them into your artwork using several techniques. " If you use Photoshop a lot, then you find that you tend to repeat your step for most of your projects. If this is the case for you then, you need to be using actions and brushes! This is a great video and link to the original tutorial on Photoshop Tutorials.
How to Create a Breathtaking Christmas Artwork in Photoshop
"In this photo-manipulation tutorial, we will learn how to create a huge Christmas tree sitting alone in a desolate winter field. This tutorial will show you how to create this beautiful image using images and textures and apply special lighting effects to make the Christmas tree glow. " This is an intermediate tutorial.
Create This Incredible Surreal Photo Manipulation of a Dancer in Photoshop
"Learn how to use Photoshop to create this amazing photo manipulation using several clever techniques such as using the Liquify tool to bend twigs and branches. The most important part of this tutorial will show you how to use layer blending modes and the Shadow/Highlights adjustment to create an ethereal tone effect." This is an intermediate tutorial.
Photoshop Video Tutorial: 5 Reasons Why You Should Use Smart Objects
"Learn what Smart Objects are and why you should use them as much as you can. This tutorial will show you how you can use Smart Objects to make transformations without any loss in quality, apply filters you can change at a later time, and more. Watch this video and find out the 5 reasons why you should switch to Smart Objects." Are you using Smart Objects? Check out this video tutorial on why you should be using them.
How to Create a Stars and Planets Time Lapse in Photoshop
"Create this loopable time-lapse animation from scratch all inside Photoshop! This tutorial will show you how to create an animated night silhouette scene with a surreal space background full of stars, galaxies, and planets. " This is a quick and easy tutorial. Take a look at the 10 second video and see what you can do with Photoshop and Time Lapse!
How to Create an Autumn Fairy Photo Manipulation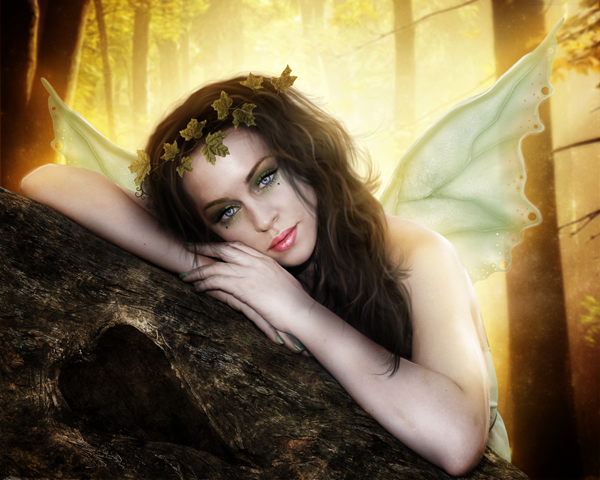 "In this tutorial, you'll learn how to create a fantasy scene of an autumn fairy. This tutorial will show you how to create hair, makeup, and apply lighting effects in simple steps to help improve your photo manipulation skills and techniques. " This is an intermediate tutorial.
How to Work With Slices in Photoshop
"Slices in Photoshop are mainly used by web designers to export various parts of their layouts to files that they can later use in functional websites. In this tutorial, we will explain what you need to know in order to start working with this helpful tool. " Learning to slice is important tool you need to learn if you are a web designer or WordPress theme designer. Most designers will create their psd theme first in Photoshop and then use the slicing tool to slice up the psd file.
Quickly Convert Objects to CSS Using Photoshop CS6.1
"The latest build of Photoshop has some great new features that are sure to catch the attention of web designers. You can now convert a layer's shape and style to CSS with a single click. In this article, we will explain how this works. Let's take a look!" What a great feature! Although I do not have a copy CS6 but after seeing this video, I want to upgrade to CS6 since this will make coding CSS so much easier.
Create Biologically Viable Alien Concept Art in Photoshop
"Designing a plausible alien life form represents a challenge for concept artists. The monstrous creatures used blockbuster movies and video games can be relatively easily created, as they don't need to be functional within a real world context. To design a creature that not only meets with a clients' requirements, but is also potentially biologically viable requires a careful balance between plausibility and visual impact, a balance aided by careful research into the way real animals look and behave. In this tutorial, Alex Ries will explain how to illustrate an alien life form that could potentially exist in real life." This is an advanced tutorial and will take a while to complete.
Design a One-Winged Fallen Angel Scene in Photoshop
"In this tutorial, I will show you the steps I took to Design a One-Winged Fallen Angel Scene in Photoshop. We will mainly go through some selection techniques, image adjustments, liquify filter as well as some lighting effect rendering skills. " This is an intermediate tutorial.
Please follow and like us: