Disclosure: We are a professional review site that receives compensation from the companies whose products we review. We test each product thoroughly and give high marks to only the very best. We are independently owned and the opinions expressed here are our own.
It's just a few days into February, so its time for Evolutionary Designs monthly Photoshop Tutorial collection. As with previous collections, we look for only the best Photoshop tutorials created each month. Not just a large collection of all the tutorials created during the month. There are plenty of other design sites doing that. At Evolutionary Designs, we choose to share only articles that are helpful to our readers or just plain cool.
If you are Photoshop tutorial writer, start commenting on these articles so we can find your awesome tutorials, if they are what our readers are looking for, then we will share your articles. If you are looking for a place to create killer tutorials, we are excepting guest writers and staff writers to submit articles for publications. Please contact us for details!
Photoshop Tutorials Created in January
January was a great month for Photoshop Tutorials! There were a lot of great tutorials After checking out the tutorials created that month, I couldn't narrow it down to just ten tutorials. So for the month of January, I have shared fifteen great tutorials ranging from beginner level through advanced level tutorials.
If you are interested in learning the basics of Photoshop, then check out this free ebook by Make Use Of. Even though this ebook was created on an older version of Photoshop, its still a great a tool to help you with learning the basics of Photoshop.
Note: Images used throughout this collection are previews from each tutorial. If you are the owner of these images or if you do not want your tutorial listed on of these collections, please contact us and we can remove them.
The Secrets of Photoshop's Retouching Tools (Part 1)
"This is the first part of a new mini series inside Martin Perhiniak's Shortcuts series. In this tutorial, Martin will talk about various ways to sample in Photoshop using several tools." This is an beginner tutorial.
The Secrets of Photoshop's Retouching Tools (Part 2)
In the second part of this mini series on Photoshop's retouching tools, Martin Perhiniak will talk about the differences between Photoshop's suite of retouching tools. This is a beginner tutorial.
The Secrets of Photoshop's Retouching Tools (Part 3)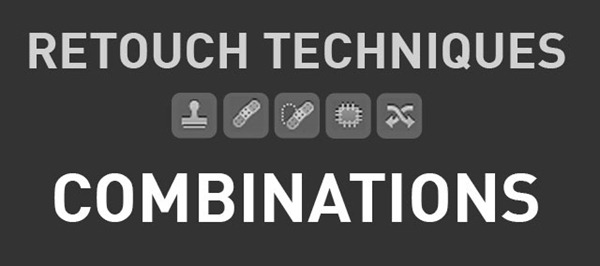 "In the third part of this mini series inside the Shortcuts series, Martin Perhiniak will explain how to combine the advantages of the Healing Brush and the Clone Stamp tool as well as how to make the most of selections while retouching." This is a beginner tutorial.
Create a Battlefield Scene Using Stock Photography in Photoshop
"By combining the right photography in Photoshop you can create just about any scene that you want. In this tutorial, we will create a battlefield using several stock photographs." This is an intermediate tutorial.
Creating "Surreal Head Stack" Photo Manipulation
"Photoshop is a great tool to create many forms of art. With it, there is no limit of what kind of artwork we can create. The only limit is our imagination. In this tutorial we will create a kind of surreal artwork, which I call 'Surreal Head Stacking Photo Manipulation'. I'm only using two stock photos to create this, the rest is heavy use of selection, masking, grouping and several color correction." This is an intermediate tutorial.
Quick Tip: Emphasize or Hide Skin Flaws With One Layer
"Want to retouch skin quick and naturally? Learn how to do that using just the yellow channel in your photo. This technique can be used to emphasize skin detail for a dramatic look or reduce the appearance of wrinkles, freckles, and dark circles under the eyes." This is a beginner tutorial
Quick Tip: Access the Hidden Photographic Toning Gradients in Photoshop CS6
"Want a quick way to tone or split-tone your photos? Photoshop CS6 comes preloaded with photographer-created Gradient Map presets but they're hidden somewhere inside Photoshop. Read this tutorial and find out where to find them and how to use them to create a professional split-toning effect. A printable toning presets chart is also included for you to use as a reference." This is an beginner tutorial.
Oblivion Inspiring Artwork in Photoshop
"So in this tutorial we will show you how to create a photo manipulation of an 'end of the world' style image. To do that we will use stock photos and adjustment layers to make sure the image looks legit." This is an intermediate tutorial.
The Creation of "APOCALYPTICA" Digital Art in Photoshop
"In this Photoshop Tutorial, I will show you how I created apocalyptic scene using various stock photos in Adobe Photoshop CS5, with a little help of Adobe Lightroom 4.
I will not explain basic actions used here so it is meant for intermediate to advanced PS users. Most of steps for this walkthrough use basic skills like cutting out objects from background, changing colors and using gradient fills, scaling, transforming etc. As every artist has their own method for these, I am showing overall workflow to create such scene. – This tutorial is written exclusively for PSD Vault by Olga Dabrowska."
Manipulation with Tree Bark Texture and Brush Elements
"In this tutorial, I will show you the steps I took to Create this Abstract Manipulation with Tree Bark Texture and Brush Elements. Along the way, you will learn how you can apply layer masks to image adjustment layers to create unique effect, as well as learning to blend texture and to use various elements to create great abstract effect." This is an intermediate tutorial.
Create a Surreal Underwater Background in Photoshop
"Learn how to create a surreal underwater scene in Photoshop in only a few simple steps. This is an intermediate level Photoshop tutorialand the completion time is about 1 to 2 hours. It was made with Photoshop CS5 but can be done in any other Photoshop version. Very important to know that this tutorial uses some non free stock images but we gave you also an alternate free images that you can use instead." This is an intermediate tutorial.
Lost Love Photoshop Manipulation
"Learn how to create a romantic Lost Love Photoshop manipulation just in time for the upcoming Valentine's day. We'll create a beautiful water landscape that you can use as background for other photo manipulations as well."  This is an intermediate tutorial
Vanity – Manipulation Tutorial
This a good manipulation tutorial. It will show you how to create shadow effects, use adjustments layers to get the needed color effect and it shows you how to paint hair (great thing to know for photo manipulations). This is an intermediate premium tutorial so you will have to join psdbox to get full access to this tutorial and the rest of their great premium tutorials. Image Source: Tutorial – Final Result
Coming Home – Photoshop Manipulation
This a very cool surreal manipulation tutorial, it will teach you how to use balances, layers, adjustments, lighting effects and tone correction.This is an intermediate tutorial. Image source: Tutorial – Final Results
Solitude – Manipulation Tutorial
This is a night scene photo manipulation tutorial. In general, creating night scenes are difficult if you want them to look realistic. This tutorial uses light effects and adjustment layers to give a realistic look. This is an intermediate tutorial. Image Source: Tutorial – Final Results
Please follow and like us: