Since installing Studiopress' Genesis Framework on Evolutionary Designs, I have been looking for the perfect theme to fit the site. Currently Evolutionary Designs is using a variation of the CopyBlogger theme until I can decided on the right them for the site. The one thing that I have always wanted was to to have an image/feature article slider. But with most sliders, I wasn't happy with design or the way it looked on the site. After trying out a few plugins, I decided that I was going to have code my own slider.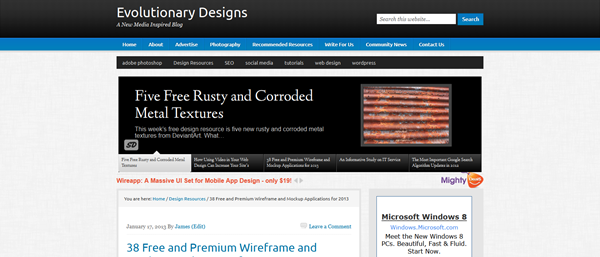 Slide Deck 2 was one of my favorite premium sliders so I decided to try out SlideDeck 2 Lite (full but limited version) before purchasing the developer's version.
SlideDeck 2 Lite Review

Just a few months ago released a free version of SlideDeck 2. Although not many have heard  much about this great plugin, there has been over over 50,000 downloads and received a 4.3 out of 5 stars from WordPress users.
SlideDeck 2 Lite Limitations
As I mentioned, SlideDeck 2 Lite is limited. Here is what you do get. If you want more, then you have to buy the full version of SlideDeck 2.
Flickr
YouTube
Pinterest
WordPress Posts
Twitter
max of 5 slides
Only two of the Lenses (Toolkit & O-Town)
SlideDeck 2 Lite is branded with a little "SD" logo on slider.
Plugin isn't supported. It will only be supported for major bug fixes.
My Thoughts on SlideDeck 2 Lite
I was originally introduced to SlideDeck 2 when I was looking for the perfect content slider. After looking at a few plugins, I was discouraged and went looking for the content slider code. So I could build the slider from the front end and not have to do both the back end coding and then work on a design that fit Evolutionary Designs. Sometime during my code search I stumbled on to SlideDeck 2 and was instantly in love with the design and the features available. But I wasn't yet sold on the slider.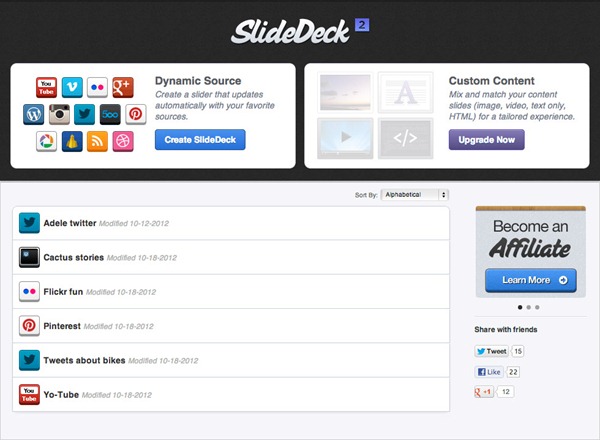 Although the developer's version had everything I needed, I wasn't sold on the price. Even though you can run a demo on their site, I wanted to get my hands on a full version or trial version on my test site or even my live site to see how well it worked, it loaded, and what I could do with it.
Then When the Lite version came out, I decided to give it try. What I found was it was simple to install and easy to setup new slides either by using your own WordPress content or from a limited selection of social media sites.
After playing with the settings and adjusting things, I came up with an image slider that I liked. At this point, I was happy. Then came the load tests.  If you been on site since adding the slider, then you know, there has been some loading issues.
I tried to tweak the settings, adjust the caching plugin on Evolutionary Designs, and did some image optimization. But I had no luck. The slider works great on individual pages and posts but on the main page its has an ugly load time.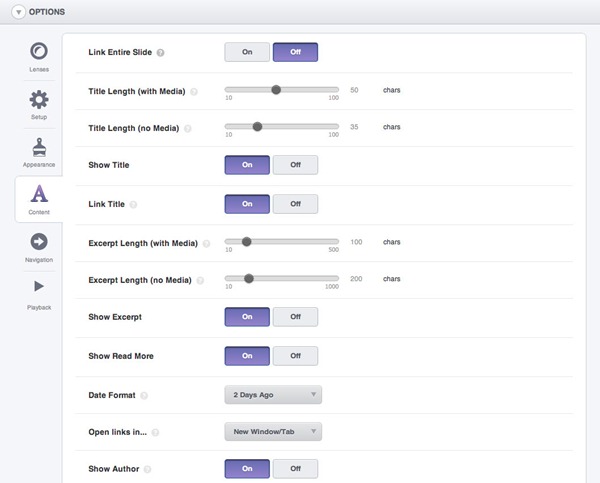 What I found was the code needed to load after the rest of page loaded and this would solve the ugly load issues. So I tried a few tricks but with no luck, it still loads slowly.
Final Thoughts
So after giving this plugin some thought, I have decided to remove it. I may add this plugin to another site that the plugin might load faster on. But as for Evolutionary Designs, this plugin isn't the one.
This is a great plugin, but as mentioned before, its not going to work for Evolutionary Designs. But this would be a great for sites that do not have that many images.
But if I could add any feature to this great plugin, it would be the option to make the code load last. At some point, I plan on doing a review of the premium version of SlideDeck 2.
Please follow and like us: