Disclosure: We are a professional review site that receives compensation from the companies whose products we review. We test each product thoroughly and give high marks to only the very best. We are independently owned and the opinions expressed here are our own.
If you are wanting to build more traffic for your site, have a better site, or even make your site more user friendly.If you are running or plan on running a WordPress site, then this is the article for you .
One of the easiest ways to add more features and functions to your WordPress site is by adding plugins. Plugins are snippets of code that is created by a web developer to make your life easier.
You can find plugins for almost anything. The safest place to find plugins is through the WordPress directory. Most plugins have been tested and will have a date as to when it was last updated and what versions of WordPress it is compatible with.
With the cost of creating development, most plugins creators offer a limited free version to show users what their plugins can do and offer premium versions that are full featured. Not only are these plugins feature rich, but the developers tend to spend more time on the coding of these plugins and offer a better support system than many of the free plugins out there.
My Favorite free & Premium WordPress Plugins of 2012
Over the last year, I have had the opportunity to test, use and review a variety of plugins. Many of those plugins never made it through the review process or were not listed in a plugin collection. Today, I have decided to share with every my favorite plugins from 2012.
To limited the amount of plugins listed, I have broken them down by category and "best of" articles. Within some of the categories, there are a few plugins that didn't make the "best of" articles. But that doesn't mean they aren't worth looking at. All it means, is those plugins were ones that I found out about after those articles were created or they may have been in an earlier article.
Backup and Restore Plugins
6 of the Best WordPress Backup Plugins of 2012
"There are a few ways to backup WordPress but the easiest way is to use of backup plugins. There are both free and premium backup plugins that both can backup and restore your WordPress sites. Below is a collection of some of the best plugins for backing up WordPress. Some just backup your files while others do more." Check out the article here.
XCloner – Backup and Restore
"XCloner design was specifically created to Generate custom backups of any LAMP website through custom admin inputs, and to be able to Restore the clone on any other location with the help of the automatic Restore script we provide, independent from the main package!"
WordPress Backup to Dropbox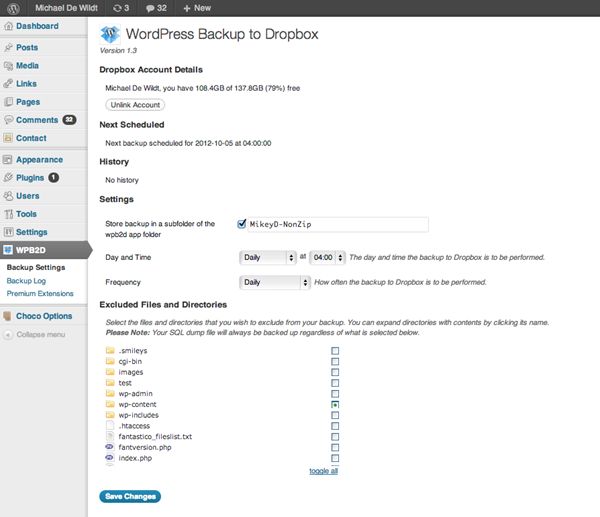 "WordPress Backup to Dropbox has been created to give you peace of mind that your blog is backed up on a regular basis."
Multi-Author/Multi-Site Plugins
12 of the Best Multi-Author WordPress Plugins of 2012
"Today, I share with you a collection of great multi-author plugins that have recently been updated and I think might be helpful for those wanting to create a multi-author site or already have one that is in need of some tools to help them out. Image Source: Flickr. All screenshots in the collection, were used from the WordPress Directory." Check out the article here.
Footer Content
"A simple but powerful plugin, Footer Content allows blog administrators to simply add (almost) anything they like to the footer of every page on their blog."
Members Directory
"Members Directory create you a new page on your networks main site so that all users that are registered at your site (and haven't opted out of being listed using the privacy options) will be listed."
Multisite Analytics
Multisite Analytics will setup Google Analytics across all of the sites on your network and you can track the traffic on your users sites.
Administration Plugins
6 of the Best WordPress Admin Plugins of 2012
"To help ease the pressures of managing WordPress, I have six useful plugins for managing the administration side of running a website. Each of these plugins, has been updated over the last few months and have great features that will enhance and make your life easier when it comes to working on the administration side of your website." Check out the article here.
Security Plugins
10 Best Security WordPress Plugins for 2012
"Below is a list of regularly updated security plugins for wordpress. Most plugins have been updated in the last few months, if one is needed." Check out the article here.
Theme Authenticity Checker (TAC)
"TAC stands for Theme Authenticity Checker. TAC searches the source files of every installed theme for signs of malicious code. If such code is found, TAC displays the path to the theme file, the line number, and a small snippet of the suspect code. As of v1.3 TAC also searches for and displays static links."
SEO Plugins
19 of the Best SEO WordPress Plugins of 2012
"Below, is a list of the best SEO WordPress plugins from last year. All of the plugins listed have been updated recently except for a few that haven't been in a while (but still work with recent versions of WordPress). All the plugins listed are in my opinion some of the best available to the WordPress community."
Infinite SEO
"Infinite SEO is THE one-stop solution for optimizing your WordPress site to achieve the highest search engine rankings possible."
Social Media Plugins
The Google+ Plugin
"The Google+ Plugin is your one-stop solution for total WordPress – Google Plus integration. This is the only plugin you'll ever need to take full advantage of Google's social media tools."
Digg Digg
"With Digg Digg by Buffer, you have an all in one social sharing plugin for your blog. Display all social sharing buttons nicely on your blog and make it look amazing, just like Mashab."
Pinterest Pin It Button For Images
"Don't like the "Pin It" button underneath your post? Want to be able to add images directly to Pinterest by just clicking on the image? Your problems are over!"
Share Buttons by Lockerz / AddToAny
"The WordPress plugin to help people share, bookmark, and email your posts and pages using any service, such as Facebook, Twitter, StumbleUpon, Google, Digg, Delicious, and well over 100 more sharing and social bookmarking sites. New: Pinterest Pin It Button in addition to the Facebook Like Button, Twitter Tweet Button, Google+ Share Button and Google +1 Button."
AddThis
"Get more traffic back to your site by installing the AddThis WordPress plugin. With AddThis, your users can promote your content by sharing to 330 of the most popular social networking and bookmarking sites (like Facebook, Twitter, Digg, StumbleUpon and MySpace). We also support address bar sharing in modern browsers. Our button is small, unobtrusive, quick to load and recognized all over the web."
Contact Forms
Contact Form 7
"Contact Form 7 can manage multiple contact forms, plus you can customize the form and the mail contents flexibly with simple markup. The form supports Ajax-powered submitting, CAPTCHA, Akismet spam filtering and so on."
Gravity Forms – Premium WordPress Plugin
"Build and publish your WordPress forms in just minutes. No drudgery, just quick and easy form-building. Select your fields, configure your options and easily embed forms on your WordPress powered site using the built-in tools. That's way more satisfying (and less fattening) than a peanutty candy bar any day."
Miscellenous Plugins Worth Having
Pretty Link Lite
"Shrink, beautify, track, manage and share any URL on or off of your WordPress website. Create links that look how you want using your own domain name! " – Pretty Link Lite. There is also a pro version available to.
Random / Rotating Ads V2
"The Datafeedr Random Ads V2 plugin allows you to simply and easily show random, rotating ads anywhere on your site by adding a template tag to your theme's template files or using widgets." Please note that this plugin hasn't been updated in over two years, but I have been using it for about that long without issues. I haven't found a free and simple random ad generator that works as easy this one. Once I find one, I will no longer recommend this plugin.
Max Banner Ads PRO 1.4
"Easily add and rotate banners in your wordpress blog anywhere you like without editing any themes or touching any codes." Before purchasing Max Banner Ads, I would check out the free version and see if you like it. To remove the link backs you have to use the premium version. This plugin works great, but it doesn't do everything I need it to so. I so have use several different rotating ad plugins.
MaxBlogPress Ninja Affiliate
"Easily Convert Blog Post Keywords Into Money Making Links As Well As Manage & Track Any Number Of Affiliate Links" – Ninja Affiliate
Bring My Blog Visitors Back
"Turn Your RSS Feed into Automated Marketing Machine, Generating you more Traffic & Revenue and at the same time benefiting from Content Thieves & Scraper Websites." – Bring My Blog Visitors Back
JetPack by WordPress.com
"Supercharge your WordPress site with powerful features previously only available to WordPress.com users." – JetPack
WPtouch

"WPtouch automatically transforms your WordPress website for mobile devices, complete with ajax loading articles and smooth effects when viewed from popular mobile web browsing devices like the iPhone, iPod touch, Android mobile phones, BlackBerry OS6+ mobile devices, and more!"
Fancier Author Box
"Give identity to your single or multi-author WordPress website with Fancier Author Box – The Only Author Box Plugin You'll Ever Need. " – Free
Fanciest Author Box
The Fanciest Author Box is a premium author bio box plugin that is easy to custom and add your social networks to your bio box. It even creates a tab for each social network so your readers cane easily add you to their networks. – Check out my review!
NextGEN Gallery
"NextGEN Gallery is the most popular WordPress gallery plugin, and one of the most popular WordPress plugins of any kind, with over 6 million downloads."
nrelated Related Content
"nrelate is not just another related posts plugin. Our patent-pending technology continuously analyzes your website content and displays other related posts from your website. This ultimately leads to higher page-views for your site, and a better user experience for your visitors."
Please follow and like us: