Its Black Friday and Cyber Monday time again and instead of doing several posts with new great new media deals, I decided to create one great list with all the great deals. I have collected some of the best deals on some of the best products and services in WordPress, web hosting, and design. This list will be updated as I find more great deals.
StudioPress and Premise
Copyblogger Media's Black Friday Sale – Copyblogger Media is currently offering huge discounts on their StudioPress themes and their Premise sales and lead generation software.
You can pick up Premise for just $95 instead of paying $165 for this great software package.
Features copied direclty from Premise website…
Build rock-solid membership sites with WordPress
Take recurring payments with automated access management
Automatically drip member content out over time
Securely sell ebooks, software, and other digital downloads
Create custom landing pages, complete with graphics
Learn conversion strategies that work via ongoing educational seminars
Confidently create private forum areas with bbPress and vBulletin
Quickly set up password-protected content libraries
Write better copy with our integrated copywriting assistant
Easily build check-out pages for PayPal, Authorize(.net), Braintree, 2Checkout, and Stripe (with more coming soon)
And much more
You can also get 25% off everything on StudioPress.com.
This great sale is going on now and will continue until 5:00 pm Pacific time on Monday, November 26, 2012. You must click on the Black Friday Sale link to see the Black Friday article and get access to the discount links via the article.
Woo Themes – Black Friday/Cyber Monday Deals
Woo Themes is is offering a great deal. If you buy any one of their themes, standard or developer, and you will get additional bonus themes. Buy 1 theme and get for 4 free themes!
The savings don't stop there, if you use the coupon code "WOOMADNESS" you can save an additional 20% that will give all your items in your shopping cart a discount.
To gain access to all 84 WordPress Themes, you can join their theme club.
Save even more, by spending more. Their discount formula is if you spend over X we'll discount your checkout basket by Y. See Example below. – Source: is Woo Themes Thanksgiving sales page.
If a user spends over $200 they get 5% additional discount
If a user spends over $300 they get 10% additional discount
If a user spends over $400 they get 15% additional discount
Themify Deals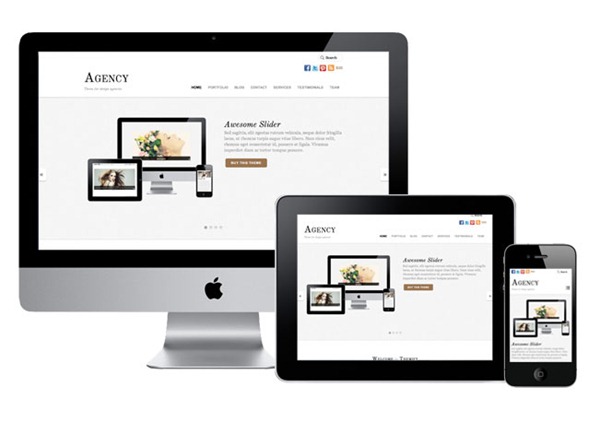 Themify Deal – "Starting now until November 26th, 2012, you can use the coupon code ' BLACKFRIDAY ' to get 40% off on all of our WordPress themes including the Club membership! This is a great opportunity to join our Developer Club at a fantastic price. You can get all 33 themes (Photoshop mockup files included) for just $53.40 (normally $89). That is $1.62 per theme! If you are an existing member, this is a good time to buy more themes or upgrade to the Club membership."
Themify just released their latest theme and they offering a 30% discount off the Agency Theme and this great deal will on November 28th 2012. This isn't really a Black Friday deal but it is a great theme and they are offering a limited time discount on this great theme. Just use the coupon code "agency" to get a 30% limited time discount.
"The Agency Theme allows you to beautifully showcase your services, portfolio, and products. Fully customizable using the Themify shortcode convention, allowing complete freedom in how the website behaves and displays itself across any and all devices."
ThesisAwesome
"ThesisAwesome.com is a new membership website for Thesis Themes customized skins. The idea of creating this site came into my mind after I bought Thesis Themes developer option and started to use it on one of my blogs, after spending some time working on the blog design, my blog became more popular, and my readers still asking me what Theme I am using, the answer was Thesis Themes plus my unique and fully customized skin, yes it's a fully customized skin that I've made for Famous Bloggers, and for me… It was a big start of a new design business." Quote from ThesisAwesome's creator Hesham.
Recently ThesisAwesome discounted their membership prices by 30% and now they have done it again. For Black Friday and Cyber Monday you can purchase a ThesisAwesome Thesis Skin for an additional 30% off the normal price. That means you can pick up a membership with a 60% discount. Just enter the coupon code A724 to get this great deal.
Theme Junkie Black Friday Deals
Theme Junkie is offering 40% off all their packages for this Black Friday. That means you will get 30% off the Single Package $39, 6 Month Package $49, and the 1 year Package $69. Just use the coupon code Black to go get 30% off their WordPress theme packages. Check out some of the articles I have written about this great theme package!.
Headway Themes Black Friday & Cyber Monday Sale
 Take full control over your WordPress site with
Headway Themes
. You can build any layout you can think of, customize any page, add colors, fonts, and more; all with the power of the Headway Visual Editor.
Normally Headway Themes cost $87 for the base level theme that includes drag and drop framework and unlimited use and installations for life or you can purchase the developer version $174 that includes the base features more. But for Black Friday and Cyber Monday you use the coupon code "hwblackfriday" on the purchase page to save 33% on all Headway licenses (and upgrades) and Headway Extend addons.
MOJO Themes 3rd Annual Cyber Bundle – 16 items worth $594 for only $29!
MOJO Themes is celebrating this Holiday season with their best bundle offering to date! For 7 DAYS ONLY you can  purchase $594 worth of tehir most popular products for just $29! Just rremember, this is a LIMITED TIME only offer  and once it's gone. Your out of luck! This great deal last for 6 days!
Author hReview Black Friday Deals
Author hReview adds hReview and AggregateRating support based on schema.org, increase search traffic by making SERP results more eye-catching. This plugin supports only the editorial ratings submission (author rating).  Check out my review here.
Normally the Author hReview WordPress plugin costs $67 for multiple sites and $47 for a single site. But for Black Friday and Cyber Monday, you can get a 30% discount by using the coupon code "FAMOUS".
CommentLuv Black Friday Deals
CommentLuv is doing another fire sale for their premium unlimited license. Currently the price is at $32 but its going up since CommuntLuv opened the sales page up early. This sale go on until Monday at Midnight.
In addition to encouraging readers to comment on your site, CommentLuv adds, social enticements (if they want to use Commentluv on your site, they need to share/like your article), you can track your links, automatic updates, plus CommentLuv comes with eight other premium plugins integrated and few other plugins you can download (limited time offer) with CommentLuv.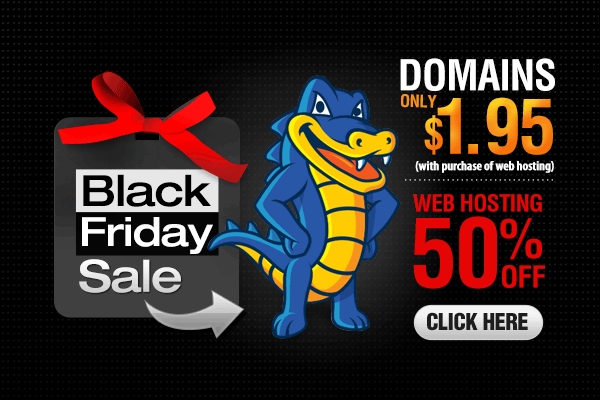 Hostgator is offering a 50% discount on ALL hosting services. This includes shared hosting, reseller hosting, VPS hosting, Dedicated servers and Windows hosting! But it will only run for Black Friday!
WP Engine Black Friday Deals
WPEngine provides a high class Managed WordPress hosting platform, they rarely do this kind of offer, so this is your chance to get a reliable web hosting for your WordPress site.
You can get $25 off the first three months of service for Thanksgiving Weekend 2012!
WordPress Training Videos Black Friday Deals

WordPress Videos Step-By-Step Video Tutorials Reveal Exactly How To Set-Up a Profitable WordPress Blog. You will love how Kim presets the WordPress Video Tutorial Library.
You can get WordPress Videos for just $10. That's more than 40 step-by-step video tutorials to help master WordPress.
GetResponse Cyber Monday Deal
Use GetResponse to "create and send beautiful email newsletters in minutes, track results and automate your marketing, so you can pull $40 for every $1 spent." For Cyber Monday, GetResponse is offering 33% off their monthly subscription plans. If you purchase annual prepaid plan you save 18% . That is $46.36 in savings!
Mighty Deals – Black Friday Deals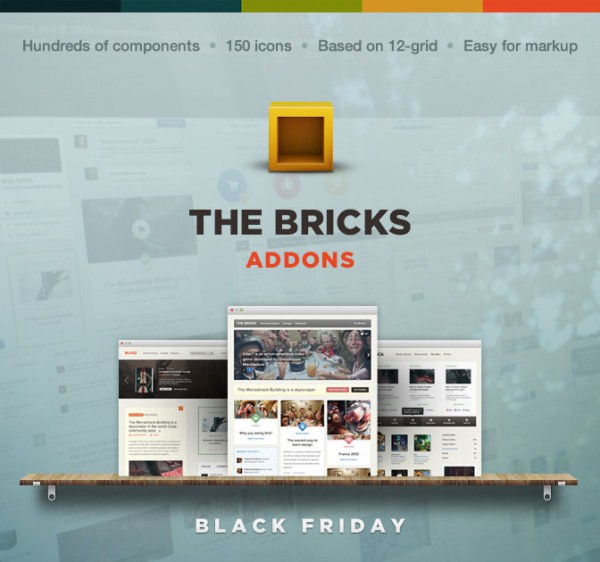 Deal 1. A bundle of 10 Mighty Deals into 1 huge mighty deal that is worth $44535 for only $47. That is a 99% discount! Check this deal out today. This Mighty Deal is only good for 2 more days!
Deal 2. "Whether you don't have the design skills or you simply don't have the time to put together tons of user interface elements, this Mighty Deal can save you an insane amount of money. We worked out a very special deal with Designmodo to offer you this Black Friday special!" Check out this great video about the bricks.
This huge UI pack collection usually sells for $289, but as an extra special Black Friday deal, you can purchase The Bricks now for just $49! That's 83% discount that saves you $240!
Inky's Black Friday Bundle
A massive collection of design resource products you are going to want or need the most and packed them all in big bundle by Inky. This design resource bundle comes with2,500 design goods valued at almost $2000. The packs comes with illustrations, vector packs, Photoshop Brushes, Photoshop actions, tons of textures, fonts, vector skulls, scrolls, t-shirt designs, vector elements, ribbons, badges, and more!
Since its the start of the holiday season, its also has a lot of useful holiday images such as, elves, reindeer, ribbons, candles, Christmas ornaments and trees and course, Santa.
All these items come with an extended royalty-license (except for the fonts) which allows you to user these resources for your business, products, website and whatever you choose.
To get this deal, check out Inky's Black Friday Deal article. This great design resource deal is active and will last through Monday.
DesignModo Black Friday and Cyber Monday Discounts
DesignModo is celebrating their first ever Black Friday and Cyber Monday by reducing their products for a week-long sale. You can get 75% off all their products. You can visit their sales page and use the coupon code "BLACKFRIDAY" to get a 50% discount. To unlock the 75% discount, simple tweet their Black Friday Article and you can unlock the code.
Please follow and like us: