Do you use Twitter? If not, why? Twitter is a great way to market your company, services, blog, and get your name out there. You can use Twitter as a way to share, communicate with your fans, friends, family, and network with others interested in same niches as you. You can even use Twitter to share links to your favorite articles, sites, and share your latest articles on your site.
If you want to know more about Twitter and how you can benefit from Twitter you should check out my Twitter articles. Those are Guidelines I Follow When Using Twitter and Twitter Tools That I Can't Live Without. If you are interested in more ways you and your business can benefit from Twitter, you should check out the eBook Twitter Dummy by a friend of mine, John Paul Aulaguiar.  It has a lot of great advice and resources to help kick start your Twitter campaign!
If you already have an account with Twitter are you using a Twitter client? If not, check out Hootsuite, it's a user friendly web client for Twitter that can access from anywhere, even from your smartphone! They have variety of tools that you can access for free and even more for premium accounts. All of these great tools are designed to make your social media lives easier.
Hootlet gets AutoScheduler
One great tool that was just released was an update to their browser booklet, Hootlet. For those that may have missed it, the Hootlet is a browser tool designed to help share links on Twitter and several other social media sites. All by clicking on the hootlet tab on your browser and you compose the message and it is sent to your social networks.
That update now includes the option to AutoSchedule your tweets. It's a powerful tool that will determine when the best times are to schedule a social media message and do it for you. So all you have to worry about is queue up your messages, the Hootlet will do the rest. Now there is no worrying or figuring out when you need to schedule your Tweets, it just does it for you.
New Hootlet Features:
The below features were taken directly from the Hootsuite blog.
AutoSchedule – Enables smart scheduling to maximize reach and impact of your social messaging
Custom Content Sharing (Chrome Only) – Select and share specific text and images found on websites via Hootlet
New Personalized Options – Allows you to enable or disable the AutoSchedule drop-down menu
Hootlet is available as a Chrome Extension or Firefox. If you already have Hootlet installed, these new features will automatically be updated.
How Does You Use Hootlet?
Check out this short introductory video on what Hootlet is.
To use the Hootlet, it easy very easy to use. Download and install the booklet and then configure it. Once you have everything setup, click the Hootlet button on a page you want to share.
Next, compose your message and then select the schedule icon. If you are unsure when you want to send your post, then  you can let Hootlet decide when its best for you. Then toggle the AutoSchedule to on. The AutoScheduler will then determine the optimal posting times for you to efficiently queue up scheduled messages.
Once a message is scheduled, you will see in the Publisher with a clock icon next to it.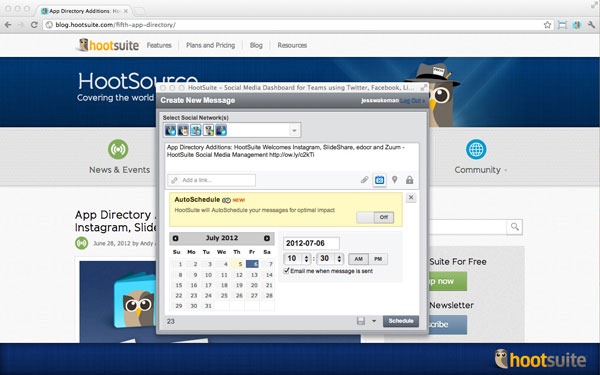 "It's really quite simple – instead of our users manually selecting what time they want to schedule or post their social media messages using our Scheduling feature, they can opt to use our new AutoSchedule technology to optimize and automate the scheduling process. It's as if we've added a little helper owl to our Hootlet. We want our users spending more time finding and sharing content and less time worrying about the best time of day to share it." - HootSuite CEO, Ryan Holmes. Image source: HootSuite Adds More Awesome to Hootlet with AutoSchedule
Additional Hootlet Features
Sharing Text – You can highlight a portion of text and right click, select current page via Hootsuite Hootlet using selecting text. It will then add that text to the compose box.
Sharing Images – If you right click on an image and select share image via Hootsuite Hootlet, the image will be uploaded to Ow.ly. The text "[image] and the link to the image will then be pasted into the compose box.
Final Thoughts
I have been using Hootsuite for over a year and it's the only Twitter Client I recommend. Every time they make a new update, its always a useful one. The update to the Hootlet is no different. There are other services that offer auto scheduling but most of them are limited. At this point, Hootlet is not limited in the amount you can auto share and the other updated features just help make this a better tool to add to your social media tool box.