If you are looking to get access the Adobe Creative Suite 6 but its not in the budget this year or maybe you are thinking about getting starting with Photoshop but not sure you are ready to put down that kind of cash on a product, then Adobe has the answer for you. Now you can use Adobe Creative Cloud to install every creative application in the suite for the fraction of the cost.
What is Creative Cloud?
Adobe® Creative Cloud™ is the digital hub that lets you download and install every Adobe Creative Suite® 6 application; access online services for file sharing, collaboration, and publishing; and benefit from new apps and features as soon as they're released — giving you the freedom to create anything you can imagine.  – Source: Adobe Creative Cloud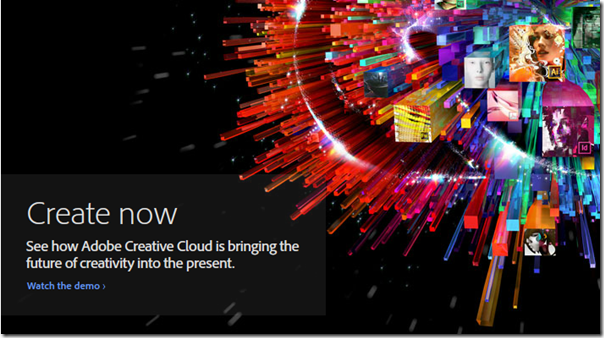 Image source: Adobe Creative Cloud – demo link doesn't work on image. Click on the image source link to see the demos.
Benefits of a Paid Membership
With a membership to Adobe Creative Cloud, you have access to the latest products, services, features, and workflows as soon as they become available. That means there is no waiting months to see the latest products and services. You will have access to them without having to purchasing the new products unless you want to.
In addition to having access to all these great products, you will have access to both Mac OS and Windows versions of the desktop applications that you can download and install on your system.
And if you are a mobile user, you can use the Adobe Cloud Storage with 20GB of storage to sync your desktop files to your tablet.
What Does Adobe Creative Cloud Services Cost?
Adobe Creative Cloud services are offered as a month-to-month or a 1 year plan. Plus they offer a discount for Student and Teacher Additions.
Please check Adobe Creative Cloud for Current Prices
| | | |
| --- | --- | --- |
| Membership | Annual plan | Month-to-month plan |
| Adobe Creative Cloud | US$49.99 per month | US$74.99 per month |
| Adobe Creative Cloud Student &Teacher Edition | US$29.99 per month | |
| Adobe Creative Cloud — current CS customers | US$29.99 per month | |
Final Thoughts
I believe this is a great service for some. My only concern is the overall cost of the service. I know you get more features and products than you would get if you buy the actual products. But the service is like a rental service that has extra benefits. You end up paying more for the service than if you were to buy the product.
If you have plans to purchase the Adobe Suite, then you might not want use the service, unless you need the additional features. So research before purchasing and see if there is a better option for you. Lifehacker just wrote a great article about renting vs. purchasing the suite. They found that it is a better deal in most cases to buy the software than to rent. See the article for the break down in pricing.
Please follow and like us: