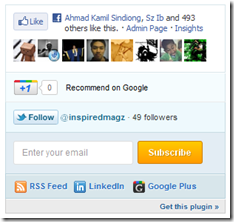 SEO is great for getting search engine traffic, but only concentrating on SEO isn't the best strategy. You can get a lot of good referring traffic from social media sites such as  Twitter, Facebook, and even the new Google+ can bring you traffic.  But you won't get any traffic if you don't have an easy for your visitors to share your articles or even follow you on your social media sites.
There a lot of good social media sharing plugins available but many are not update with the latest social media sharing sites or they have to many options that end up slowing your site down. However, there is one plugin that looks great and very easy to use. It is up to date and has the latest social sharing design trends. That plugin is Easy Mashable Social Bar by Syafz.
Easy Mashable Social Bar WordPress Plugin Features
Automatically display social share buttons.
Display Facebook Like thumbnail on your blog's sidebar.
Google +1 share option for each post. Makes it easy for visitors share your blog post.
Feedburner email subscription option.
Show your LinkedIn and Google+ profile.
Easy customization of the widget width and height.
The plugin makes it to change the background to any color you want.
Installation
From your WP-admin panel select add new plugin and search for Easy Mashable Social Bar.
Open the link for the plugin and click install. Once installed, make sure to activate it.
Once activated, go to widgets and drag the new widget to your sidebar.
Then configure as needed. That's there is to it.
Final Thoughts on Easy Mashable Social Bar WordPress Plugin
This is a great plugin. However, I did have some issues getting it to work and look good with my theme. I try the plugin with several different themes (a free theme and a premium theme) and both had issues with the look. Even after configuring the width, some of the icons would not line up. So when I get the chance, I will have to look at the code and see why it won't work on a Studiopress theme or a free theme.  But these issues could be with just these two themes, if you are looking for a great social sharing plugin, I would defiantly take a look at this one.
Does anyone else have any issues with this plugin? Share your thoughts.