This week instead doing a regular Mash Up, I decided to share with you some of my favorite articles, tutorials, and cheat sheets for the Google Plus Network.
After deciding to create this list, I found that my good buddy, Hesham of Famous Bloggers beat me to the list. So, instead of sharing every one of his finds, I decided to add his article link as my first shared link in this article. Check it out, there some great articles list there.

Google Plus Social Network Links
The Best Google Plus Tutorials
"I've published a few days back about the network, and I asked my friends to share what they think about Google Plus network and I've got some amazing feedback. Today I thought to take a tour on Google search and try to find useful Google plus tutorials to share with you."
Google Plus: 8 Quick Tips and Tricks
"Google Plus (aka Google+), Google's new social network, might offer the right mix of sharing and privacy to woo you away from your Facebook account. If you don't know how to use it, though, it's just a confusing mess of circles and contacts. So we've assembled a few tips to help you get started."
Get on Google+ With This Invite Exploit
"Looking to get onto Google+ but stuck without an invite? A workaround allows current Google+ users to give access to their friends via e-mail, after Google cut off a well-publicized exploit on Thursday. As of this writing the trick described below was still working. "
25 Google+ Tips to Enhance Your Google Plus Experience
This article has 20 quick and easy tips for Google Plus.
10 tips to make the most of Google Plus
"Are you among the lucky ones who have been invited to use Google Plus? And are you looking for tips to make the most of this very promising social networking site? If so, this article is for you! Here are 10 tricks that you may want to implement right away."
5 Things Google Plus Have Over Facebook – Plus One
"With Wave and Buzz Google has not able to grow as they thought they might, but at least they are trying there best .. and i am sure Google will win the war in the near future. And just to start the war Google was added some amazing features in Google Plus which Facebook doesn't have with the same polish. Let's see the 5 things which Google Plus have over Facebook."
Google Plus Cheat Sheet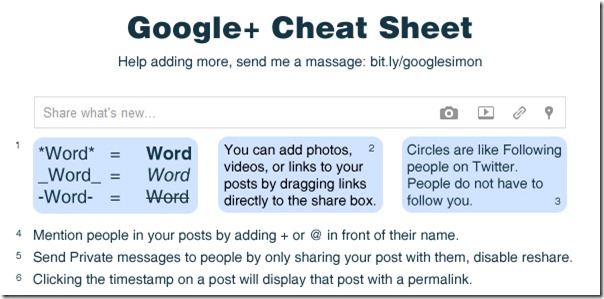 Here is a great cheat sheet for Google Plus. Get the full version here.
Please follow and like us: