If you stop by Evolutionary Designs often, then you know that I am a big fan of social media and social bookmarking. I use social bookmarking as a way to network with other bloggers and to find more articles in new media. In general, I only have a few sites that I use all the time, and I am always looking for new ones that have the potential of becoming successful and will give good referring traffic.
About a week ago I came across a new bookmarking site and within a few minutes I could see a lot of potential here. The new site is Blog Interact. This site is not very old but is already getting popular. It's already at the point where it owner had to move the site over to a dedicated server (April 2nd, 2011). So if you are checking this site out and notice any issue with the site, it's because the owner is working out all the bugs from the site transfer. If you have ever had to deal with a site transfer, then you know how much of a big deal it can be.

Blog Interact
As mentioned before, Blog Interact is a social bookmarking site that was designed to allow writers, photo/video journalists, and anyone interested in various multi-media topics can come together all in one place. Users are encouraged to submit their favorite stories, photos, videos and more so that the community can engage and "interact" with one another.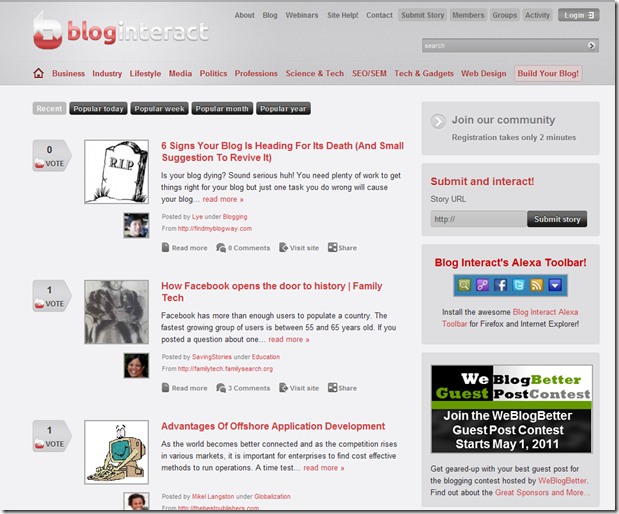 I have been a member for about a week now, I have visited several times a week and every time I visit I see new articles. For a new site, to me this is a sign that the site is taking off. The owner of the site, Bryan Hollis, has done a great job at designing and maintaining the site. He also created submission categories in business, industry, lifestyle, media, politics, professions, science/tech, SEO/SEM, tech/gadgets, and web design. So there is something for everyone on this site. Since the site still very new, you may not find something in your chosen niche to read, but don't worry, there will be very soon.
Another cool thing that Bryan added to the site was, CommentLuv! So when you comment on someone's submission you leave a comment and you leave one of your links back to your site. So far, out of all the social bookmarking sites I have seen and used, this is the only site that is using this valuable tool.
Final Thoughts
Overall I like the site; I like the design, the site loads fast (now that it's on a dedicated server), lots of great features, and the site gets a good amount of traffic. So if you are looking for a new social bookmarking site to start using, try out blog interact. To take full advantage of sites like Blog Interact, you need to vote on articles, visit the articles, comment on the article site/submission page, and "interact" with the network. Spend a little time on the site, help Bryan out by promoting the site and should see a good amount of traffic start coming in.
Please follow and like us: