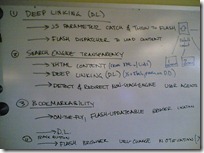 Over the Holidays I had some extra time to catch up on my SEO studies and I came across a video on SEOMoz about tactics that an everyone that does SEO should do before start working on SEO for a sites. Even if you are working on a site and won't be launching a new site anytime soon, these tactics should be added into your process for SEO. Having a game plan before you start on a new SEO project or just having one for each day you plan to work SEO, will help you understand what what goals you have and how you plan to achieve those goals.
The Topics to Help you Do Better SEO
Danny Dover goes into detail about what he does and suggests we follow these tips to help us be better at SEO.
Those tips are;
Get a whiteboard and put it in a non-work related place.
Prioritize SEO tasks when you first get to the office for the day
Dedicate time and add it to your calendar for researching SEO
Create New Emails for each clients
Take time to explain your job to friends, family, and anyone is willing to listen
Schedule meetups with others in your industry (online marketing, SEO, Social media)
Be thankful!
Final Thoughts
After watching the video I realized that I do a lot of these things. I do not own a whiteboard and even I did, I work from home, when I work on SEO for clients. I do have a home office, but its also a guest bed room for now. So a whiteboard hanging from the wall with random notes isn't very fashionable for home decor. I also try and schedule meetups, I have met a few people in my area of work, in person or on internet voice conferences.  But other than that, I have not meet many of the SEO and online marketers in our area. But I am hoping to change that in January.
The two tactics I find the most useful are, scheduling time for research and prioritize SEO tasks first thing in the morning. If I don't schedule time for SEO and research, I tend to forget about or I just run out of time and have to move to the next project of the day.
Image source: White Board