In design, bokeh effects have recently become popular and you can find them on websites and on some of the products you might would buy everyday. In photography, the bokeh effect is a blur or an out-of-focus area of an image when a lens renders out-of-focus points of light. These blurs are some deliberately created a dramatic effect. In graphic design, designers may create a bokeh effect in Photoshop for a design project.
When I was first starting out, I had a hard time creating a bokeh effect, but after some practice and trying different tutorials out there, I came up with a process to create the bokeh effect without having to use textures or someone else's bokeh brushes.
As mentioned above, I used many different tutorial designs to teach myself how to create a bokeh effect. The two that I got the most inspiration were from two graphic designers and their tutorials. I mostly used Abduzeedo Bokeh Tutorial and Javier Canetero of Designer Freelance's Bokeh Tutorial for my inspiration. Thanks guys!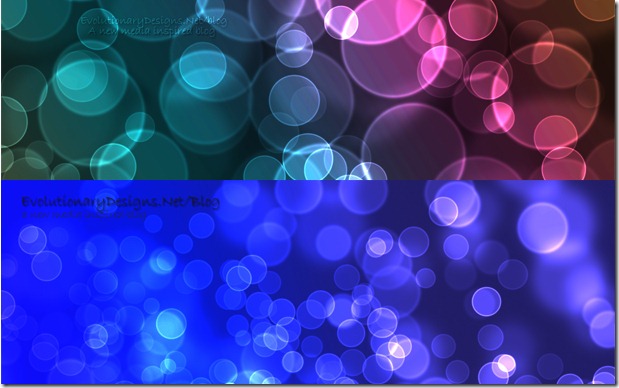 Creating a bokeh effect in Photoshop is easy, I took Abduzeedo's tutorial and modified it to work for me and what I needed for my project. So if it looks familiar, that's why. If you found his tutorial a little hard to do or if he skipped a few steps, I went back and added those steps to this tutorial.  Check out his tutorial if you get the chance, there is also video screen cast for his tutorial.
Bokeh Effect Effect Tutorial
1. Create a New Canvas 1920 x 1200 pixels and paint the background layer dark grey ( #262626). If you fill it with black the effect will not work.
2. Create a new layer and name it "Gradient." Next create gradient with the colors of your choice.  To get to the gradient settings, double click on the gradient layer to open the layer style screen.  Then select Gradient Overlay.  For this example, I used a Blend Mode of Color, Opacity of 100%, style is linear and I set the angle at 90%. The colors I used are: Dark Blue (#0a064f), Dark Blue (#0a064f), Blue (#1220e0), Lighter blue (#0e0ef9), Lighter blue (#0e0ef9), light blue (#008aff). Of course you can add as many makers as you want to add colors to the gradient.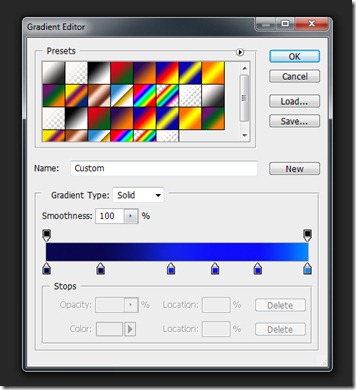 If you want to try it with the color scheme from the other examples, the Blend Mode is Multiply, Opacity is 100%, Style is Linear, and the Angle is 45º. The colors I used are: Orange (#d27e34), Purple (#9b3b81), Cyan (#1bdaeb), and Yellow (#00085). I used the color scheme from Abduzeedo Bokeh Tutorial, but I modified the blend mode.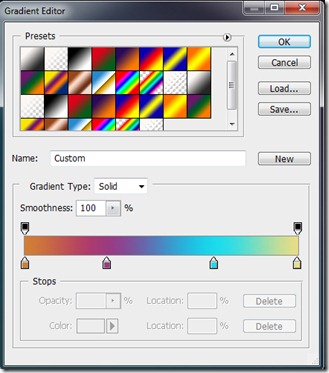 3. Once you have your gradient settings, you will need to select gradient tool from the left hand horizontal tool bar. If you do not see it, it is hidden under the the paint bucket button. Right click on the paint button and select the gradient tool. Make sure your new layer is selected and I started in the right top corner and dragged the course to the bottom left. You can set the gradient at any angle on the canvas or in the settings. Just play with it until you are happy with the results. Then select a blending mode from the layers panels for this tutorial I used normal. Sometimes using Multiply can make the gradient look better.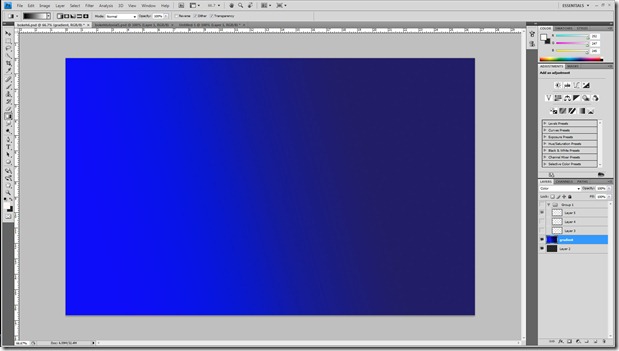 4. Now we need to create a brush for the bokehs. Select the ellipse tool from the horizontal toolbar.  Set the fill color as black and in the layers panel set the fill to 50%. Double click on the bokeh brush layer to style the layer. Select stroke and set the size to 3 px and the color should be black.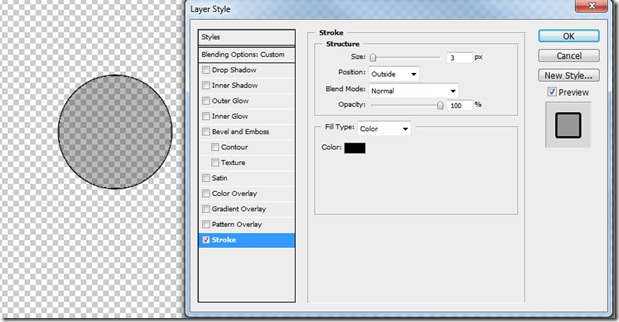 5. Now that we have a bokeh create we need to define it as a brush. Select the ellipse tool >>> Edit >>> Define Brush Preset. Name your brush "Bokeh." You just created your first brush…well maybe its your first. After defining your brush, hide the layer, you will not need it anymore (click the eye in the layers panel.)
NOTE: Sometimes the the Define Brush Preset is "grey out." To fix this you will have to rasterize the layer before proceeding. To do that, go to Layer >>> Rasterize >>> Rasterize Layer.

6. Next we need to go into the brush engine and configure our brush. Make sure the brush tool is selected from the horizontal bar. Then click on Window >>> Brushes. Once again these settings can be changed to do to what you like. My settings are:
7. Create a layer group. In the layers panels at the bottom of the panel you will see a folder icon. Click on that and it will create a layer folder. Name it "Bokeh Layers" and set the blending mode to Color Dodge. You do not have to do this step, but I found it gives the bokeh layers and extra kick of texture by adding this blending to all the layers and still be able to individually blend them if I need to.
8. Create a New layer within the group. Name the new layer "Large Bokehs." Select the brush tool from the horizontal tool and set your brush to the brush we created. Set the size to 500 to 600px. For this example, I set it them around 200 to 300px. Then just paint some ellipses. To make it more random, just hold down the left mouse button and drag the mouse from side of the canvas to other. You do not have to do it strait. You could do it in a wavy line from one end to the other. Do not do to many, we do not want it to look crowded or the bokehs to looks as if they were being placed. If you do not like the patter or it doesn't automatically fill the canvas with the bokehs, go to Edit >>> Undo and try again.
9. Now add a Guassian Blur. Go to Filter>>>Blur>>>Gaussian Blur. and set it to 20 pixels for the Radius.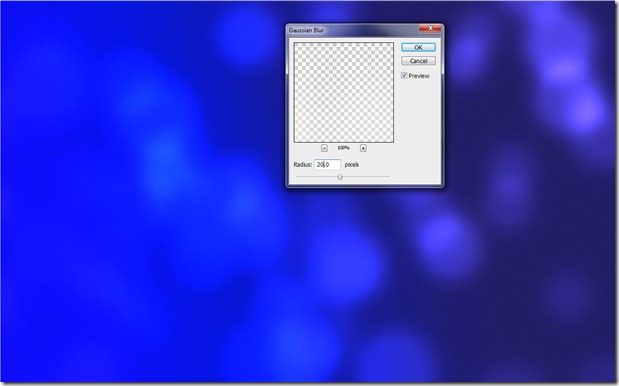 10. Create a new layer within the group and name it "Medium Bokehs." Set your custom brush to about half size. For this example that would be 125 to 150px. Or if you went with the larger range of 500 to 600px, you would want to set the size to 300px.
11. Add a Gaussian Blur. Go to Filter>>>Blur>>>Gaussian Blur. Set the pixel size to 4.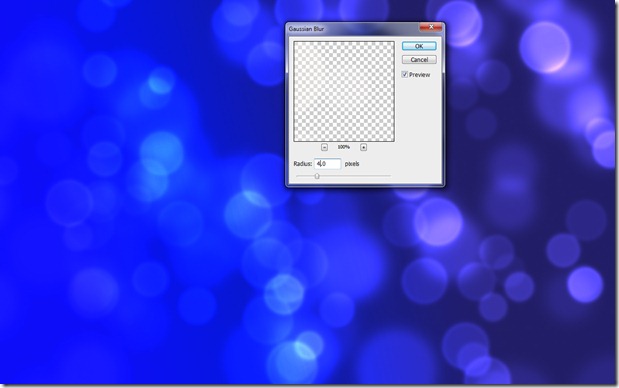 12. Create a new layer within the group and name it "Small Bokehs." Set your brush to about half the size of the medium bokeh layer. I went with 75px, if this to small, then try setting the size to 100 px.
13. Add a Gaussian Blur. Go to Filter>>>Blur>>>Gaussian Blur. Set the pixel size to 1.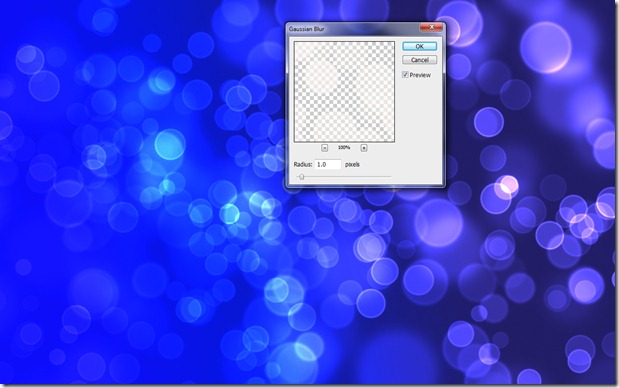 You are now finished with your bokeh effect wallpaper. Now you can add your signature or add it to whatever project you want.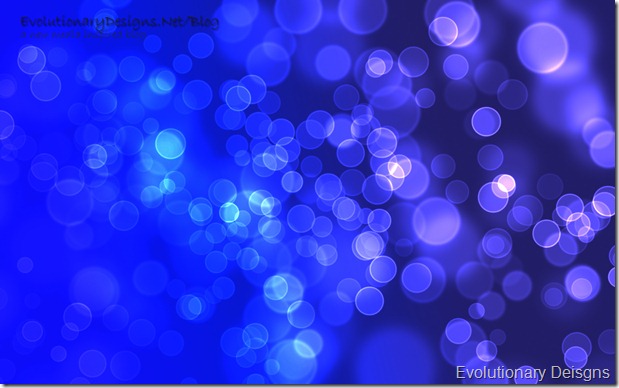 Final Thoughts
Bokehs as a design elements, have always been a favorite of mine, knowing how to make these has helped with my designs. This tutorial is easy to do and doesn't take to much time. Once you have the brush saved as a present it recreated the bokeh effect can take less than ten minutes to complete.
Now that you have created your bokeh effect. Let us know how you did and share with us your designs.
Please follow and like us: