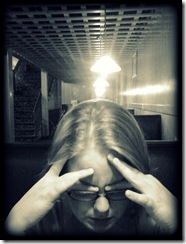 Stress can be difficult for anyone. Depending on what you do, how difficult, and the amount of hours you have to put can add to the stress levels. For me, stress its from almost every direction, about year ago, I decided it was time, to start working toward what I liked doing, so I went back to school and working toward a multimedia degree program in web design and motion production. On top of the schooling I am working part time in the telecom industry, then I freelance freelance for EnterNet Now! , and I also run Evolutionary Designs, where talk about new media, and I do consulting for SEO / social media consulting, a long with WordPress training and consulting services. So at times my stress levels get a little high when I end up having to deal with all this during the week. Has something like this happened to you or worse?
John over at BloggerLuv, asked "me what I do when my stress level get high?"To tell you truth, there isn't much I do or can do; I was never really good at managing stress levels. When I was younger I could deal with it better, but as I get older I have to remove the stress to be healthy. Lets face it, to much stress is unhealthy and can cause all sorts of health issues. So the best thing we can do for ourselves is to remove as much stress as we can.
Removing Stress
Removing stress can be difficult, so we have to learn what works best for ourselves. Today I wanted to talk with you how I deal with and remove stress from my day-to-day activities. The first thing I do is, create a weekly schedule on my PDA and sync it with Google Calendar. I add everything and try and build a daily schedule. This includes personal, work, freelance school, and blogging schedule. I block off times depending on how much is needed for each thing I do daily. I am not a big fan of such a structured schedule, but it helps stay on schedule and keeps from spending too much time on personal and blogging. By doing this, I remove a lot stress that can be caused by not knowing what I have to do each day or falling behind and spend hours playing catch up.
Creating and maintaining a daily and weekly schedule works great, but there are times, when that doesn't. During those times, I listen to music while I work. The type of music depends on what type of mood I am in. When the stress gets to the point that my work starts to suffer or I get the stress headaches, I stop working and watch TV or go see a movie, if I have the time. Usually I try and watch something funny. In most cases I like to watch, what I call stupid funny. I generally watch the same moves if I watch them on TV. They tend to be, Super Troopers, Beerfest, Grandma's Boy, and a few others that take my mind of the stress. Usually after watching something funny puts me in a good mood and I can usually get back to work.
The worse types of stress happen when I am taking design or production classes and gets worse when midterm and final projects are due. During the semester, I am busy and barely get my regular assigned projects completed on time. But when major projects are due this is when my schedule goes crazy. The last few semesters have been rough. During those semesters, I ended up taking on new client projects or had to deal with out of state family issues about the time the projects were assigned or needed to be turned in. When that happened my stress went through the roof. I actually had several times when I completely shut down and couldn't get any work done. When that happens, its time to take a break and play video game, I pick games that I can blow stuff up. I play mostly first person shooters and action games where I do not have to think too much. Where I can log onto the multiplayer games, and play as long as it takes to remove stress and I am in a good mood again.
These are just some of the major ways I remove stress from my busy life. Removing stress can be easy or it can be hard its all depends on your situation. If you are looking for ways to remove stress, I have also found that working out, running, or going for a walk are great ways to help deal with stress. At other times, I found working in my garden, working on my truck, or doing some off roading in my truck or on the quads works well. In general, just being outside in the sun, getting plenty of vitamin D can help reduce your stress levels.
TIP: To help prevent or lesson the effects of stress, there are few things you can do.
Exercise daily
Healthy diet – need to have well rounded meals, and make sure to eat breakfast!
Reduce sugar and caffeine intake. I drink a lot of caffeine drinks when I am sleep deprived. Not a good idea when stressed.
Avoid drugs, alcohol, and cigarettes
Get more sleep. I rarely get more than three or four hours of sleep most nights. When I do get more sleep my stress levels are a lot lower.
Image Creadit: LW Photography  / Becky Wetherington
Please follow and like us: