Last week I came across a new tool that every website owner or administrator should use. This tool is Uptime Robot. Uptime Robot is an online tool that monitor's your web server's uptime every five minutes and will alert you when the server goes down. If you are reseller, or you own and operate multiple sites you can add up to fifty domains to one account.
So How Does Uptime Robot Work?
Uptime Robot scripts go out to your website and looks for the website headers and gets status codes like "200- ok", "404-not found", and other codes every five minutes. If the status code returned is considered to be good then the system does nothing. If the script returns a status code such as 400+ and 500+, the site is not loading. The script will then check again several times in a three minute period of time. If Uptime Robot finds that your site is still down, it will alert you by email or SMS text message.
What Will This Service Cost?
The best part about this tool is that right now, its free. Why is it free? The guys at Uptime Robots say at this time it will be free because they do not know what the expense will be to run this service. They hope that they can pay their expenses through sponsors and ads. However they do mention a disclaimer saying that they may go into a paid service in August 2010. So if you are interested in this service, check it out before its to late.
Will This Affect My Statistics?
Uptime Robot will only download the HTTP headers of a website. What this means to you and your analytic tracking codes, Uptime will not download tracking codes. Therefore it will not affect your tracking statistics. However, every time Uptime Robot, accesses your sites, it will be added to the website's logs which means they will be added to analytic programs such Webalizer and AWStats.
If you want these programs to ignore Uptime Robots IPs you can go the Uptime Robot's About page to get a list of their IPs so you can have your Webalizer and AWStats ignore them.
How Do I Use Uptime Robot?
Using Uptime Robot is easy. The first thing you need to do is register your email with Uptime Robot. In order to register your email click on the "Start Now" link in the top left corner and fill out the form.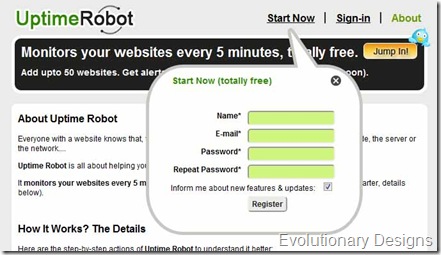 Once you get your account setup you will need to add your domains to the account. You will see a link under the banner that says how many domains they are monitoring. The link will be a small blue button that says "add link". Click on that and add your link to the system.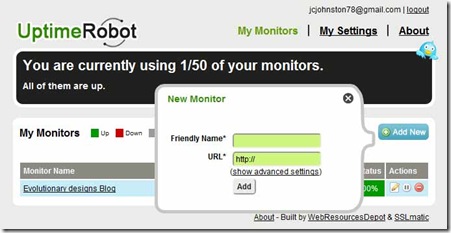 Once you have added all of you domains, Uptime will automatically start checking the domains every five minutes. If you need to remove a domain just click on the little red icon with a negative sign out to the left of the domain you want to remove.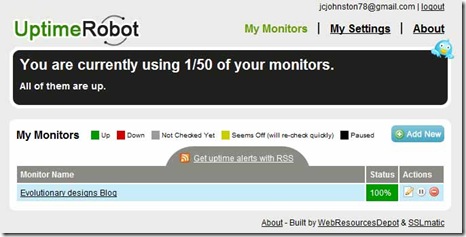 Every web administrator's worst nightmare is to have one of their websites go down and not know it. Why not add Uptime Robot to your tool box.
Please follow and like us: