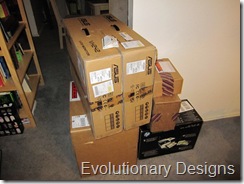 Recently, I spoke of getting some new hardware and should arrive sometime during the last part of the month. Well, today at about 7 PM the FedEx guy showed up at the door with a large and heavy box! I was not sure what this was. So I found the packing label attached to the side of the box and figured out what was in the box. It turns out, it was from HP and the invoice says its the computer. Two weeks early! I can't wait till this weekend, I get to setup my system! If you are wondering why I am not setting it up today and change plans for the night. Normally this wouldn't be a big deal and I would do it, but tomorrow I have to get up before 5 AM and brave our 16 degree weather to warm up the car and scrape the ice from the windows. Yuck!
The reason I have to get up so early is, I have to work a twelve hour shift tomorrow and I do not know if I can work on it tonight and get it done early. If I start on it tonight,  I will work on it and stay on it until it is finished. Once finished,  I would play with it all night.
More than likely, I won't be able to sleep tonight because of the excitement. If I am up to it, I will start on it tomorrow by removing the old the system, and clean up the area and then Saturday morning I will starting the system up. I can't wait!