Disclosure: We are a professional review site that receives compensation from the companies whose products we review. We test each product thoroughly and give high marks to only the very best. We are independently owned and the opinions expressed here are our own.
Are you looking for tools to help automate your Photoshop editing? Maybe looking for a certain look but can't figure out how to get the results you envisioned? If so, have you looked at getting a set of Premium Photoshop Actions? Photoshop Actions are available all over the internet on free limited use downloads or no limit use premium sources. If you are interested in getting a large collection of Photoshop Actions at discounted prices, InkyDeals just released  their 180 Premium Photoshop Actions for only $29.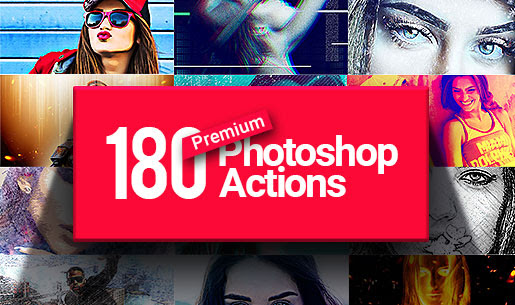 What are Photoshop Actions?
Photoshop Actions  have an .ATN file extension and work with Photoshop. But what this file does is complete a series of design steps that are recorded by a creator. Once saved, the sequence can be repeated any time you want. Using actions will add shorten the time it takes for to edit your images.
180 Premium Photoshop Actions for Only $29 From InkyDeals
Yesterday InkyDeals sent me an email letting me know they just added another Photoshop Premium Design Resource to their collection of discounted premium design resources.  This deal is the 180 Premium Photoshop Actions
This collection of Premium Photoshop Actions can be used by amateurs, and professional designers. Most of them are used with Smart Objects, so you don't need to install any presets, all you need to do is to put your image in smart object. All you need is Photoshop CS4+ or Photoshop CC
You can pick up the 180 Premium Photoshop Actions for Only $29 From InkyDeals. The list price for this product would be $1440.00 if you bought them elsewhere or separately. But for a limited InkyDeals will give it you for $29.00! As of February 8th, 2018 this deal is valid for the next 24 days. If the deal has expired, you on the deal. Sometime InkyDeals relist their bundles or you might just find another bundle out there.
Terms and Usage taken directly from the sales page.
Please follow and like us: