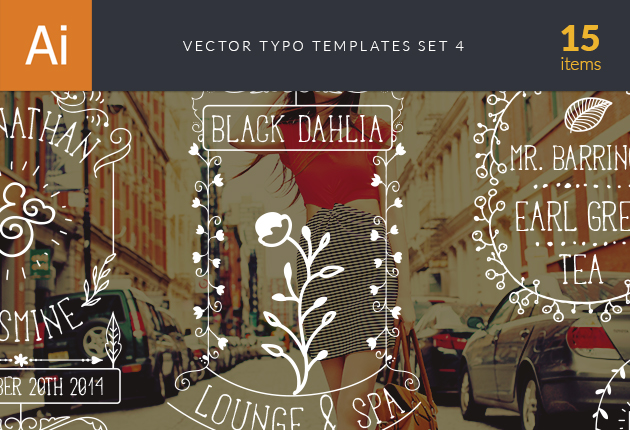 Editor Rating

Rated 4 stars

Excellent
$34to $69
---
Reviewed by:

Published on:

Last modified:
---
Description:
Super Premium Typography Creation Kit 2 comes with hundreds of top-quality vectors, textures, PS Brushes, vector illustrations, fonts, actions and even animation – all of them valued at $3,250!
What can I say, I love typography and I believe if you have the right fonts in your design project, it will help with it being a success or just being so-so. With that in mind, I am always on the look out for new fonts and design resources for my collections, work and share with the readers.
And one of those finds, I found early early today on InkyDeals. They are offering an impressive Typography Creation Kit that has thousands of items in it. And you can get this kit for less than $40! And if you missed out on the first kit, you can add that one to the order for just a little more…
Why Premium Fonts?
You might be asking why I need to pay for fonts when I can download them from the different font sites? The answer is simple, did you read the usage rights? If not, you might need to read them before using them on your projects. Depending on what you are using those fonts for, you might not have the right to do it. Many font designers offer the fonts for free but you are limited to personal use only. If you plan to use them on commercial projects, template designs or anything where you might being selling a product with their work is evolved. They require you purchase the font package. If you don't they have a right to force you to discontinue use or worse. They might seek legal action.
This is where InkyDeals Typography Creation Kits come in handy. This package not only comes with a collection of cutting edge fonts, it comes with a whole collection of design resources that you can use those resources for whatever project might come up and never have to worry about usage rights!
InkyDeals Typography Creation Kit 2 Features
7 gorgeous hand-drawn font families together with their original .Ai files
160 premium vector templates
865 vectors & elements from 40 different sets
4 premium Photoshop effects
14 animation overlays
70 high-res Photoshop Brushes
190 super high-res textures & backgrounds
250 top-quality vector illustrations;
As I mentioned before you can do whatever you want with the resources in this kit. InkyDeals is offering an extended royalty license, you can use them in an unlimited number of commercial projects and even use them on merchandise that is intended for mass distribution. And if that wasn't all, it comes with a 200% money-back guarantee from InkyDeals!
The Cost?
If you already purchased the first Typography Kit, then you can pick that up for only $34. If you need both kits, you can pick that up for only $69. That's a huge combined savings of over $7,000. But this is a limited deal time and in less 10 days. As of today publication you have until November 29th 2014 to purchase this great Typography Creation Kit.
Please follow and like us: