InkyDeals has another great design bundle at another huge discount. They are offering up a brand-new bundle that has thousands of different design resources worth $14,970. This bundle has it all. It comes with vectors, PS addons, fonts, tutorials, and even a great selection of HTLML5 templates!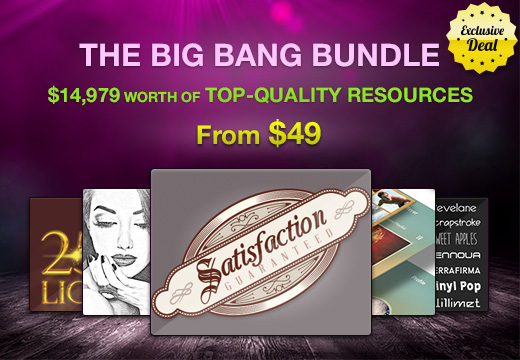 What's in This Great Bundle?
This bundle comes with a ton of resources that every designers could ever want. Below is  a list of goodies that comes with it.  The information below was taken directly from the sales page.
The Big Bang Bundle with $4,916 worth of Brand-New Resources – Only $49
120 Vector Packs worth $1,800
500 Vector Illustrations worth $2,000
15 High-Res Texture Packs worth $225 (6000 x 4000 px)
14 Photoshop & Illustrator Addons worth $210
20 T-shirt Designs worth $300
5 Premium Tutorials worth $100
9 UI Kits worth $135
268 Fonts in 24 Font Families worth $70
8 Bootstrap 3 Templates worth $76
The Extended Big Bang Bundle worth $14,979 – Only $79
For an additional $30 you can get all the resources mentioned above, plus the following resources:
-350 Vector Packs worth $4,045
425 Vector Illustrations worth $1,700
101 Web & Print Resources Packs worth $1,070
109 Photoshop & Illustrator Addons worth $1,036
87 High-Resolution Texture Packs worth $994
40 T-shirt Designs worth $600
67 Photoshop Brushes Sets worth $486
Tatianna Font Family worth $35
10 Premium Tutorials worth $97
As always, this bundle comes with an extended royalty license  (does not include fonts and HTML5 templates). You can use them in on an unlimited number of commercial projects and even on merchandise.
The price
As mentioned above, you can purchase the main bundle for $49. But an additional $30 more, can get the extended bundle.
This is a limited time deal and if you purchase by April 10th, 2014, you can use the coupon code BIGBANG! to receive a 30% discount. This discount can be used on any active deal as well.
For more information, to purchase, and receive a free download example, click here.
Please follow and like us: