InkyDeals does it again! They have another great design bundle at a huge discount. Each time InkyDeals comes out with a new design bundle, its larger than the last one and the price is hard to beat.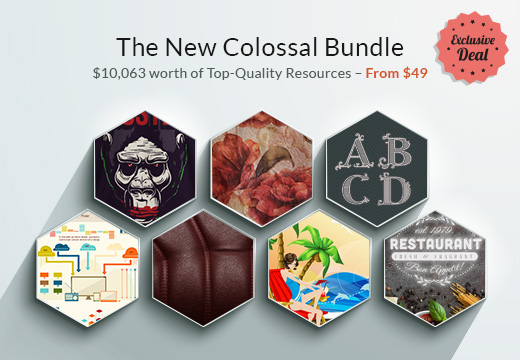 Much like me, InkyDeals is a company that is passionate about design. They are always looking for killer resources to add to their next design bundle. Once they find those killer design resources, they work with owners to offer these resources at huge discounts. They are almost always lower than what the owners are selling them for. But when these great deals are listed, they are only available for a few days. Once those overs are over, they usually won't offer them again.
The New Colossal Bundle Features
I just got my hands on this new bundle, I have to say its impressive. Its even better than the last one. I already have plans for several different resources that comes with this great bundle and look forward to finding uses for the rest!
The New Colossal Bundle comes with a huge selection of vector sets, t-shirt designs, texture packs, and a font family.
117 Vector Sets worth $1,755
425 Vector Illustrations worth $1,700
40 T-shirt Designs worth $600
18 Texture Packs worth $265
Tatianna Font Family worth $35
For just a few extra dollars, you can add the DesignTNT Massive Library Bundle to your order. The DesignTNT Massive Library comes with more vector sets, web & print packs, Photoshop/Illustrator addons, more texture packs, brush sets, and some premium tutorials!
233 Vector Sets worth $2,290
101 Web & Print Resources Packs worth $1,070
109 Photoshop & Illustrator Addons worth $1,036
69 High-Resolution Texture Packs worth $729
67 Brushes Sets worth $486
10 Premium Tutorials worth $97
Every thing in this bundle comes with an extend royalty license. This means you can use these resources an unlimited number times for your personal and commercial projects. You could even use them for merchandise sales.
If you are not satisfied with this great bundle, IndkyDeals is offering a 200% money-back guarantee. You get to keep the bundle, plus get your money back. No questions asked.
Get the New Colossal Bundle worth $4,355 for just $49, or you can get both bundles worth $10,063 for a price of $79!
You must hurry, this deal ends on March 20th, 2014. If you use the discount code, COLOSSALWEEK, get an additional 30% off discount. You can even use this code to purchase other great bundles. The discount code will expire on Friday, March 14th, 2014.
To download a sample or to purchase your bundle, click here!
Please follow and like us: