One of the things I love about the design community is the support from other designers can give to others. Even if they only offer premium resources, these resources often help designers and those without skills a chance to add killer designs to their projects.
One of the features that Evolutionary Designs offers links to free and premium design resources. We try and find the latest and greatest sites that offer these resources at a great price. That way you do not have to work to find those great resources, you can spend that time looking through those great resources.
Earlier this week, I came across a huge discount offer from Inky Deals. They are offering a discount on DesignTNT's design library. That means you can get over $8,000 worth of design resources for only $59. This is a limited time deal that you can only get through InkyDeals. This deal ends on on Feburary 27th, 2014.
Below is a copy of the design deal taken directly from InkyDeals' website.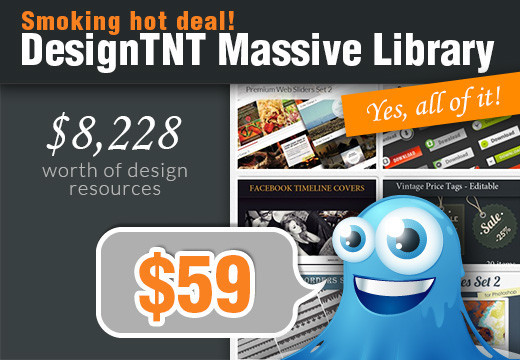 InkyDeals' DesignTNT Design Massive Library Discount Deal
"We're back with the biggest and most awesome design bundle ever featured. You're probably familiar with the Full Design Library, one of our all time best-sellers.
Well, now it's even bigger. The DesignTNT Massive Library alone is valued at an astonishing $5,708, but on top of that we threw in a collection of 630 Top-Quality Illustrations with typography elements, thus creating the ultimate design library!
It's the perfect deal for both graphic and web designers looking to save precious hours (and thousands of dollars), but without sacrificing the quality of their works.
You will get:
– 630 Vector Illustrations worth $2,520
– 233 Vector Sets worth $2,290
– 101 Web & Print Resources Packs worth $1,070
– 109 Photoshop & Illustrator Addons worth $1,036
– 69 High-Resolution Texture Packs worth $729
– 67 Brushes Sets worth $486
– 10 Premium Tutorials worth $97
This entire bundle is valued at an incredible $8,228, and it has thousands of top-quality resources!
And if that's not enough, these resources come with an extended royalty license, meaning you can use them in an unlimited number of personal and commercial purposes, and even in merchandise intended for mass distribution!
If somehow this bundle doesn't rise to your expectation, we're offering you a 200% money-back guarantee! This means you get all your money back – no questions asked AND keep the bundle.
Not sure yet? Download a freebie with 25 vectors, 2 textures and 4 illustrations worth $41 and use them as you want!"

Please follow and like us: