Its Black Friday and Cyber Monday time again and instead of doing several posts with new great new media deals, I decided to create one great list with all the great deals. I have collected some of the best deals on some of the best products and services in WordPress, web hosting, design and photography. This list will be updated as I find more great deals.
Web Hosting
Hostgator

Hostgator  is offering a Black Friday deal of 75% OFF all new hosting packages and $1.95 domains! The sale begins at 12:00AM Central Time, Friday, November 29th. The flash sale will run for 1 hour (ends at 1AM Central Time) and then the site will switch over to 60% off all new hosting and $4.50 domains
running limited time, 75% OFF flash sales throughout the day and all weekend. Here are the times for the flash sales (all flash sales are the same offer – 75% off all new hosting packages and $1.95 domains).
Flash sale times (all times are Central Time):
Friday 12AM – 1AM
Friday 9AM – 11AM
Friday 9PM – 11PM
Saturday 12PM – 1PM
Sunday 8PM – 9PM
Monday 12AM – 1AM
Monday 10AM – 12AM
Monday 10PM – 11:59PM
MaxCDN
MaxCDN is the best WordPress CDN provider. We are using them on our site to speed up WordPress.  They are offering subscriptions for $90 per year. That's 50% off their annual subscription on all plans.
WP Engine is offering a great deal on WordPress Hosting – sign up for an annual plan and get 4 free months of hosting! Just use the special offer code "cyberhostspecial13" when signing up. Prices starting at $29 per month. Offer is valid from 11/29/13 to 12/02/13.
WordPress Themes and Plugins
ThemeJunkie
To celebrate the holidays, ThemeJunkie is offering Club Memberships for 20% off regular prices.  That's a Lifetime Membership for $80 and a Standard Membership for  $40. Just use the coupon code HOLIDAYS from now until December 2, 2013.
ThirstyAffiliates
To celebrate ThirstyAffiliates is offering 30% off coupon to use through until the 2nd of December. Just use coupon code SILLYSEASON30 at the time of check out.
iThemes –  Web Designer Tool Kit
Ithemes is offering all the tools you need to build a WordPress web design business for $295 that is normally priced at $590. This great deal is good through December 2nd, 2013.  Use coupon code TOOLKIT50.
Soliloquy
The best responsive WordPress slider plugin is having a HUGE Thanksgiving week sale! Use the code THANKS13 at the checkout to get 33% off your order! Prices start at $29.
Themify
Themify is offering a 40% off. Their themes now include their very own drag and drop page builder.  Just use code BLACKFRIDAY at the time of checkout.
MoJo Themes
For 7 DAYS ONLY you can buy $594 worth of MoJo Themes most popular items for just $29!
Premise  This deal ended on Novemember 18th. If you are still interested in purchasing this great tool its still available at regular price.

Save $70 and get Premise for $95 and you can have a a professional landing page setup with ease.
OptinMonster
OptinMonster is a easy way to add popup optin forms to your website to grow your subscriber list and increase your conversions. Use the code BF2013 to get 35% off your purchase during this weekend only.
Design Deals
InkyDeals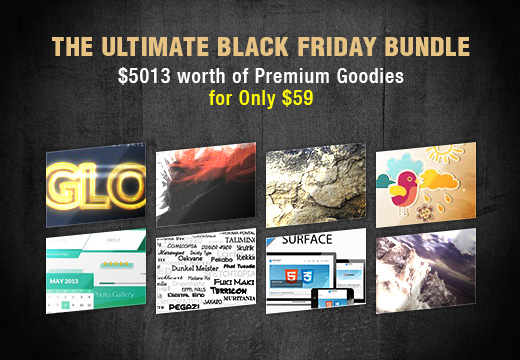 InkyDeals is offering a great deal on design goodies that every designer could want in their design tool box. Get this great Black Friday Bundle for only $59 worth $5013. Use code  INKY2013 to receive an additional $5 off your order.
Photography Deals
TopazLabs
Get the Complete Collection of TopazLabs Adobe Lightroom plugins for$199.99, which is almost 50% off the normal price of $379.99. The sale will run from November 28th through December 2nd, 2013. Just use code blackfriday2013 at time of purchase.
BorrowedLenses
Black Friday Special – Save 15% On All Rental Orders. Get your coupon code here.
Adorama Camera
Adorama Camera has always has great deals for Black Friday and Cyber Monday. Be sure to check out their deals.
B & H Camera
For more great deals on camera gear, check out B & H Camera. They are have some great Black Friday sales. T
Please follow and like us: