Are you looking for an all-in-one solution for professional looking black and white photos. If so, then you must take a look at Topaz B&W Effects. Topaz B&W Effects is a powerful plug-in, that makes it easy for you to create rich dynamic black and white images.
What is Topaz B&W Effects
This plugin is more than just a black and white conversion tool, Topaz B&W Effects comes with 5-in-1 selective brush, adaptive exposure, quad toning, historical processing collections, creative effects and much more.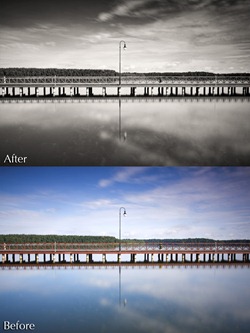 You can use Topaz B&W Effects to…
1. Dynamically convert images to black and white with maximum contrast control.
2. Balance and enhance tonal range of grays while individually controlling the range of blacks and whites.
3. Create an authentic feel of film by applying real grain.
4. Enhance images with maximum detail and depth.
5. Selectively enhance images with color, dodge, burn, smooth or detail.
6. Add creative styles – like HDR, diffusion, painterly effects and more.
7. Add finishing effects like vignettes, boarders, quad toning and more.
Source: TopazLabs.com – B&W Effects
Topaz B&W Effects Features
Smart Brush. Intuitive selective adjustment brush for burning, dodging, smoothing, selective color and selective detail – plus edge-aware options.
Advanced Grain Engine. For the most authentic film grain look.
Preset Collections. Presets are organized into 7 unique collections.
Effect enable/disable. Clickable preview options that allow you to hide or view a set of adjustments for easy comparison.
Stage-based layout. For a simple and streamlined workflow. All of the tools are broken down into steps to help ease you through the editing process.
Split Screen. Use the 2-screen split view for easy before and after comparison.
Preset Enable / Disable option. Option to enable or disable the preset preview processing at program startup.
Localized reset all buttons. Reset only the parameters in a specific tab.
Undo / Redo buttons.
Collapsible side panels. Expand and collapse the >preset panel and the tool panel for an adjustable workspace.
Snap / Recall collection. Save up to 99 snapshot settings for comparison.
Auto Updater. Get software updates instantly.
Preset Navigation. Use the up / down arrow keys to navigate the preset list and display the selected preset thumbnail (in preset preview window). Use the return (Enter) key to apply the currently selected preset.
Enable / Disable Tool Tips. Option to enable or disable the pop up tool tips.
Quick Slider Reset. Double click
Source: TopazLabs.com – B&W Effects
New Features of Topaz B&W Effects
User Interface Design. With B&W Effects v2, we are introducing a much cleaner, more efficient interface to improve usability and workflow.
Preset Preview. A larger, floating preview is displayed when hovering over presets.
Preset QuickLook View. A full-screen, pop-up grid view that shows all the presets in a certain collection at the same time.
Grain Enhancements. The grain algorithm has been enhanced, allowing for even more realistic grain creation from the true grain library.
Color Filter and Sensitivity Enhancements. The strength and quality of both the Color Filter and Color Sensitivity have been improved.
Quick Tools. Adjust contrast, brightness, adaptive exposure and more without having to access the full adjustment panel.
Loupe. Quickly view a small portion of an image at 100% zoom.
Viewing Enhancements. Easily change the main preview background color and hide side panels for less distraction.
Source: TopazLabs.com – B&W Effects
How to Open Topaz B&W Effects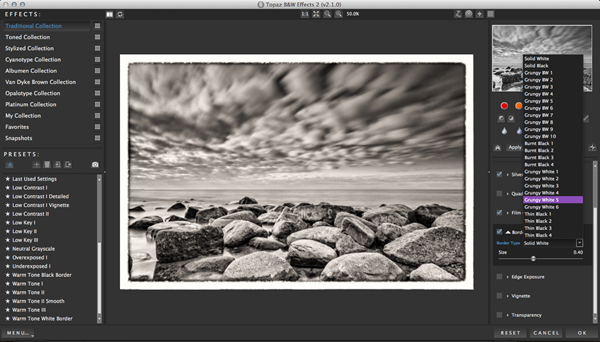 This plugin is compatible with Adobe Photoshop CS3-CS6 (32-bit and 64-bit), Photoshop Elements 6-11, PaintShop Pro, Photo Impact Serif Photo Plus, Aperture 2 and 3, iPhoto Lightroom 2-4 via Topaz Fusion Express and photoFXlab.
In order to use Topaz B&W, you must have one of the compatible software programs mentioned above. I use Topaz B&W with Lightroom 3 and Photoshop CS4. To access Topaz B&W with Lightroom, you will have to select the image you want to convert to black and white and right click and choose edit in ( use the top menu and select Photo >>> Edit in >>> Fusion Express 2 (64bit) or (32bit)) and choose Fusion Express 64.
Next choose how you want to edit your image. I normally choose to edit a copy with Lightroom edits. If you choose the original, you will modify your original and won't be able access the original image once you save the changes.
After choosing how you want to edit the image you should see a selection of different plugins to use from (if you purchased the Topaz Labs Plugin Bundle). Choose B&W Effects 2.
Now you should see the above interface image with your selected image.
Topaz B&W Effects Interface
The interface has four major areas that you will use when converting your images to black and white. The Presets/Effects Panel, Preview Window, preview navigator, and Settings & Parameters.
The above interface screenshot is from an image I was processing during this review. The rest of the images used were from Topaz Labs.
Final Thoughts
Last week I received access to a preview version of Topaz B&W Effects 2.1 that should be releasing on April 11th and I have to say that I am impressed. I have only had a few hours to work with the new version and found that the new changes make it easier to use than the previous version.
I have been using Topaz B&W since January and worked several different versions. When I had to upgrade to Topaz B&W 2 I had some issues with the changes that were made and it took some time getting use to it. But with this new version, I haven't found issues that I do not like.  Over the next few days/weeks I will be processing some more images into black and white.
At that time, I will share  some of my images that converted and do a quick a walk through on using Topaz Black & White Effects. For now here is an article that links to some of the images I created using an older version of Topaz Black & White Effects.
Please follow and like us: