Disclosure: We are a professional review site that receives compensation from the companies whose products we review. We test each product thoroughly and give high marks to only the very best. We are independently owned and the opinions expressed here are our own.
Its seems like only yesterday I was learning about wireframing and how it can help create a great looking and useable user interface. In truth, I learned about wireframing in some my basic web/graphic design classes. Almost all of our projects were created by first creating a mock using pen and paper. Once the design looked good and the overall designed was user friendly, we moved on the coding part.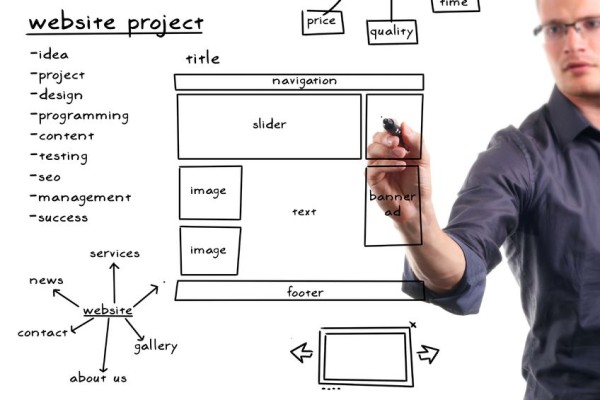 Image credit: Stock Photo – website development project on whiteboard
A few years ago, a few companies came out with software that was designed for mockups and wireframing. As developers realized how valuable wireframing and mockup tools were, they knew that the current software packages were either to expensive to use or not very user friendly.
So with a need for better wireframing software, new wireframing apps were created. Wireframing and mockup apps have gotten so popular, that it seems like new wireframing apps are created daily.
Because the demand for only the best wireframing software is so high, software developers are coming out with feature rich wireframing apps almost everyday.
Free and Premium Wireframe and Mockup Applications
With all the new wireframing and mockup apps available on the market today, how does one choose the right app for their projects? So today, I decided to create a list of some of the best free and premium wireframing and mockup tools out on the market. Some of these apps can be used on your iPad or iPhone. Then there are some that are web based. And of course, there are some apps that are desktop only. Check them out and see which one works best for you.
Justinmind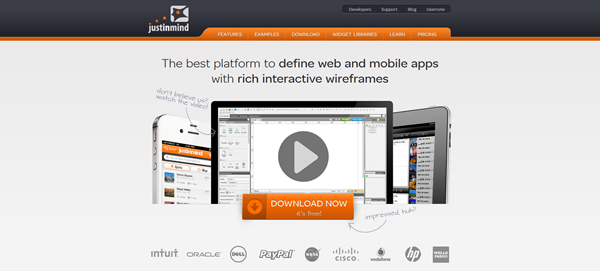 "Justinmind works to deliver the best application prototyping platform to define web and mobile applications. Our solutions are designed to help teams create rich interactive wireframes and share them to get feedback. "There are free and premium versions starting at $29 Per Month"
UXPin
"If your UX Design tool is going to truly aid your work and not just add to it, then it needs to feature exactly the right tools for the job. Our in-depth, collaborative approach to UXPin as a tool puts everything you need at your fingertips – and nothing you don't." Pricing starting at $12 per month and there is a 30 day trial version.
OmniGraffle for Mac
"Need a diagram, process chart, quick page-layout, website wireframe or graphic design? OmniGraffle can help you make eye-popping graphic documents quickly by keeping lines connected to shapes even when they're moved, providing powerful styling tools, importing and exporting Microsoft Visio files, and magically organizing diagrams with just one click. Whether you need a quick sketch or an epic technical figure, OmniGraffle keeps it gorgeously understandable." Prices start at $99 for standard addition. For even more power, check out the professional version for $299.99.
ProtoShare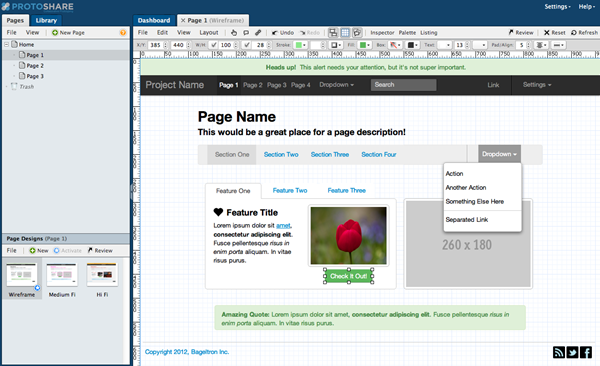 Online wireframe software, ProtoShare is used to create, review, and refine website, web application, and mobile prototypes. It enables development teams to build website wireframes and application prototypes that stakeholders can then review and comment on then mark and track decisions made. ProtoShare is not a Flash tool; it uses HTML, CSS, and Javascript. Prices start at $29 per month.
Wireframe by Mockingbird

"We couldn't find a web-based tool to make and share wireframes, so we made one. Our goal is to continue to improve Mockingbird to make it the easiest and friendliest wireframing tool out there." Pricing starting at $9 a month, but there is also a free limited version.
WireframeSketcher
"WireframeSketcher is a wireframing tool that helps product managers, designers and developers quickly create wireframes, mockups and prototypes for desktop, web and mobile applications. It's a desktop app and a plug-in for any Eclipse IDE." Single user licenses starting at $99.00
Pidoco
"Pidoco is a web-based Rapid Application Prototyping software that makes it easy to quickly create wireframes, interactive software prototypes, and rich specifications without any programming. This allows you to test drive software directly with end users before implementation, with the potential of saving up to 30% of total development costs and dramatically improving software quality. Pidoco is easy to use, with handy sharing and collaboration features, a convenient remote usability testing module and much more." Pricing starting at $9.00 a per month and there is a 31-day free trial available.
Axure RP
"Axure RP gives you the wireframing, prototyping and specification tools needed to make informed design choices, persuade any skeptics, get your design built to spec… and maybe win a few fans along the way." You can pick up the single user for $289 and the pro version for $589
Antetype
Antetype is a great looking wireframing and prototyping desktop application for Mac. You can pick up Anteype for $189.
Creately – Online Wire-Frame & UI Mock-Up Tool
"Creately can be used across all sectors by individuals, corporate teams, developers, software architects, students and teachers alike for various diagramming purposes." Prices start $9 per month for a single user. There is also a limited free version available.
Frame Box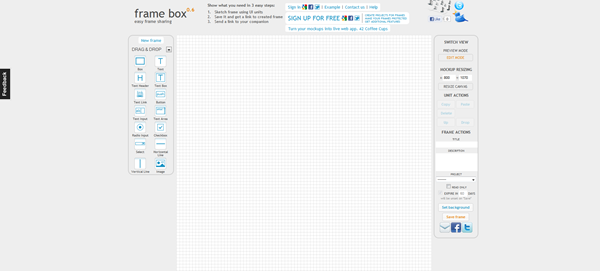 Frame Box is free wireframe and mock up web app that you can use to mock up your UI units and save it, get a link a link to the created frame and send it to your companion.
FlairBuilder
"FlairBuilder is a prototyping tool that lets you create interactive wireframes for websites and mobile applications. It's easy to learn and use, and comes with lots of options." You can purchase FlairBuilder for $99.
HotGloo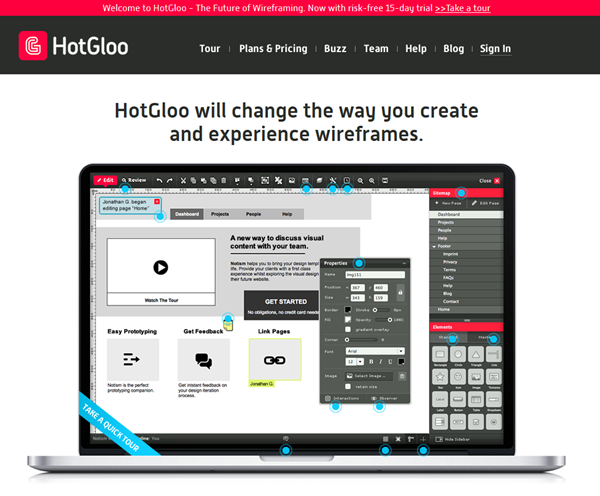 "HotGloo combines all the functionality from a classical desktop software with the comfort and benefits of a web app. From low- to high-fidelity, from wireframes to prototypes – with HotGloo you can finally achieve great concepts in a fast, simple and beautiful way. Mock up an idea, gather feedback, review and improve over time. With just one click you can receive feedback on a particular element or interaction, helping you to adjust accordingly. " Prices starting at $14 per month. They also have a limited solo project that is $7 per month and a very limited free plan as well.
Pencil Project
"Pencil is built for the purpose of providing a free and open-source GUI prototyping tool that people can easily install and use to create mockups in popular desktop platforms." This is a great free tool to do your mock ups.
MockFlow
"Design, collaborate user interface concepts for your software and websites. " – "MockFlow Design Cloud provides design tools and collaboration services for designers. Its flagship software – "MockFlow Wireframe" is used by thousands of customers worldwide"  There is a free version that is limited, but you can purchase a package with unlimited projects for only $69 per year.
Mockup Builder
"Mockup – it is the convenient software, which allows you to make a prototype of a site and new design for soft. We offer you to try possibilities of this program and to create web prototypes. Mockup has all necessary tools for giving the original look to appearance of websites. It is very convenient to use mockup for a web design. Numerous elements in UI promote development of ideas of modernization. You can download this program from our website or use its possibilities online. We can help with development of this program and we provide comprehensive support. Mockup has many functions" This is a free app.
gliffy
"Built for the demands of more intense users, only Gliffy Pro makes it this easy to create, share, and collaborate visually with colleagues, vendors, clients, and organizations." Gliffy starts at $4.95 per month and there is limited free version.
Mockabilly
Mockabilly is a mockup tool for the iPhone.  You can pick up the full version from the iTunes App store for $6.99 and the lite version (free) is also available there as well.
Moqups
Moqups is a free HTML5 App used to create wireframes, mockups or UI concepts, prototypes
depending on how you like to call them.
Serena Protoype Composer
"Serena Prototype Composer helps you quickly and accurately simulate how an application will look and function without writing any code. Instead of endless text entries, complex data hierarchies, or technical UML diagrams, Serena Prototype Composer makes it easy to collaborate on requirements by building simple, high fidelity prototypes that look like the real thing."  The professional version starts at $299 or you can try out the limited version for free.
Lucidchart
"Lucidchart provides the easiest and most powerful flowchart software in the world. Create professional diagrams and flowcharts to help you communicate visually." Prices start at $9.95
SketchyPad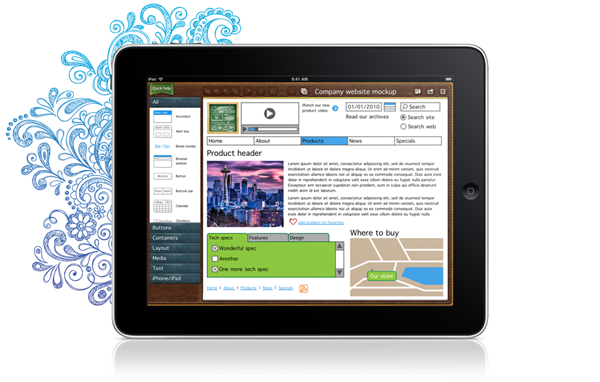 "We are proud to offer you a new app for website sketching and apps interface making, including iPhone and iPad apps. This app will make designers, programmers, interface designers life much easier. Easy-to-use interface and a lot of various stencils will help you to mockup any web sites and soft interfaces." You can purchase SketchyPad for $4.99 from the iTunes store.
Tiggzi
"Tiggzi is the first mobile platform that offers a cloud-based rapid development environment integrated with pre-built back-end cloud services and industry leading team collaboration capabilities. Tigzzi enables developers of all skill levels to rapidly create complete mobile apps including user interfaces, application logic, and back-end integration. It combines the simplicity of visual development with the sophistication to create complex apps that scale to millions of users. Because the platform is 100% cloud-based, you can focus on creating great applications while we worry about maintaining the platform." Prices starts at $40 per month and there is also a limited free plan.
Wirify
Wirify is a bookmarklet that lets you turn any web page into a wireframe in one click. It's free, easy and fun to use.
balsamiq
"Using Balsamiq Mockups feels like drawing, but because it's digital, you can tweak and rearrange easily. Teams can come up with a design and iterate over it in real-time in the course of a meeting. Product managers, designers, developers, and even clients can now work together in the same tool to quickly iterate over wireframes, before writing code." The web version starts at $12 per month for the personal version or  you can pick up the single user desktop version for $79.
dub – Denim
"DENIM is an outgrowth of the original SILK project, a pen-based sketching tool for designing user interfaces. SILK combines many of the benefits of paper-based sketching with existing electronic prototyping tools. It allows designers to quickly sketch an interface using an electronic pad and stylus. SILK preserves the important properties of pencil and paper: a rough drawing can be produced quickly and the medium is flexible. However, unlike a paper sketch, this electronic sketch is interactive and can easily be annotated and modified using editing gestures. SILK allows the designer to extend the interactivity of the recognized widgets using storyboards" This a limited tool but its free and works on Windows, Mac OS X 10.2, Linux/Solaris/Unix.
UI Sketcher for iPad
"Created by User Experience professionals and built upon the principles of Design Studio Method and Adaptive Path's Good Design Faster, UI Sketcher enable you to rapid sketch, refine and share user interface ideas." You can purchase UI Sketcher for $3.99 from the iTunes store.
AppCooker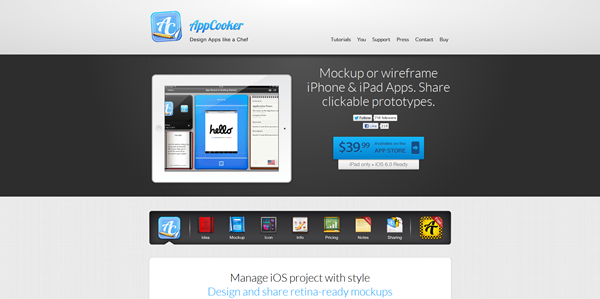 "AppCooker streamlines App creation workflow to get ready for production in no time. It's an advanced mockup & prototyping tool on iPad. Create, play and share high fidelity mockups using native iOS widgets: it's the ultimate toolbox for anyone who wants to start creating "an App for that". Whether you're an indie developer, a UI/UX guru, a graphic designer, a project manager, an established company or an amateur, AppCooker is the perfect tool to bring iOS applications to life. From idea to mockup and beyond, it's easy for anyone to achieve professional results." You can pick up Appcook from the iTunes store for $39.00
fluidIA
"fluidIA is an emerging agile design tool for prototyping rich user interfaces. The big idea behind this experiment is whether we as interaction designers, IA's, UX professionals and developers can create our own prototyping tool in an open way. Provided with access to an open design and open source process." This is an free open-source project.
Fluid
Fluid is a mobile OS protoytyping. You can prototype for Android, Windows Phone 8, and iOS. There is a limited free version, but if you need more than what the free versions offers, the premium versions start at $29.00
Grafio
"Create business models, flow charts, organizational charts, wireframes, network diagrams, business process diagrams, venn diagrams, mind maps, mockups, text-and-audio notes, sketches and other illustrations. Everything is custom and modifiable." You can purchase Grafio for $7.99 from the iTunes store.
Cacoo
"Cacoo is a user friendly online drawing tool that allows you to create a variety of diagrams such as site maps, wire frames, UML and network charts. Cacoo can be used free of charge." Prices start at $4.95 per month for unlimited features or you can start using the limited free version.
Lumzy
"Lumzy is a mockup and prototyping tool for websites and applications. " Its free!
iPhone Mockup

A very basic and free iPhone Mockup tool.
Mockups.Me
"Mockups.Me combines the speed of a napkin sketch with the smarts of software. It enables you to sketch, review, and iterate your application user interfaces – fast." You can purchase Mockups from the iTunes for $19.99
Proto.io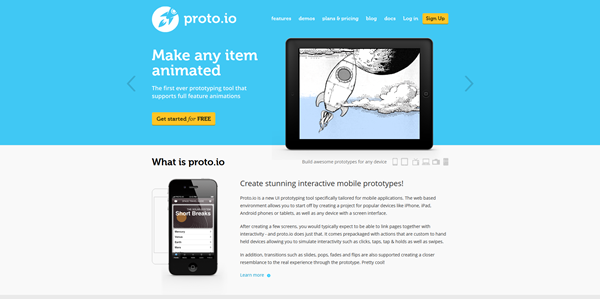 "Proto.io is a new UI prototyping tool specifically tailored for mobile applications. The web based environment allows you to start off by creating a project for popular devices like iPhone, iPad, Android phones or tablets, as well as any device with a screen interface." The basic plan is free, if you need more features there are premium plans starting at $24.
Lovely Charts
"Lovely Charts is a diagramming application that allows you to create professional looking diagrams of all kinds, such as flowcharts, sitemaps, business processes, organization charts, wireframes and many more…."
You can pick up Lovely Charts from the iTunes store for $4.99.
iMockups for iPad
"iMockups for iPad is the premiere mobile wireframing and mockup app for your web, iPhone and iPad projects." iMockups for iPad can be purchased from the iTunes store for $6.99.
Please follow and like us: