If you have a blog that's been around a while or even a new that is popular and receives a lot of traffic you might have noticed that there are sites stealing your content.
Sites that steal your content do it in a variety ways, but the most common way is by your RSS Feed. They take your feed and republish it to their blog. By doing this, it makes their site look like the real deal and get a higher rank in Google, possibly even better than your site. They sit back and let you do all the work and in most cases don't even give you or your site credit for the work.
You can fight these sites, you can request the web hosts to remove these sites/articles from their services. But in reality, you can't stop them all and the ones you do stop, twill just pop up somewhere else.
How Can You Stop Them From Stealing Your Content?
If you can't stop content scrapers from stealing your content, then use them for your own purposes. What I mean is, there is a new WordPress Plugin on the market by MaxBlogPress called Bring My Blog Visitors Back that will insert content into your RSS Feed that will help benefit you whenever a visitor readers your article via the RSS Reader or stumbles across from a scraped site.
How Does Bring My Blog Visitor Back
The plugin is powerful WordPress Plugin that gives you new features and options over your RSS feeds. They options are designed, to entice your RSS readers to visit your blog without annoying them. Plus these great features will work on those sites that use your RSS feed to steal your content.
When an RSS scriber reader comes across your article on their reader, the plugin makes your article standout from the other articles. The features will give readers a reason to visit your blog. They might see an additional article they like, might want to make a comment, or they might want to purchase something from you.
So What are These Great Features?
The features include: (some information taken directly from the sales page)
Display Related Posts on RSS Feed
"This feature allows your RSS readers to see a list of related posts to the current post that they are reading, introducing them to other relevant content on your blog, enticing them to visit your blog."
Display Social Icons on RSS Feed
"This feature allows your RSS readers to easily share the post that they like directly from RSS feed Reader to social networking sites, allowing you to get viral traffic on autopilot."
Display Number of Comments on RSS Feed
"This feature allows your RSS Readers to see the number of comments in the post, just like in your blog front-page, enticing them to visit your blog."
Display the latest User Comment on RSS Feed
"This feature allows your RSS Readers to see the latest user comment of your blog post, encouraging them to post their comments too by visiting your blog"
Display Custom Header Content/Banners on RSS Feed
"This feature allows you to add your own custom text or link (html allowed) at the top/bottom of every blog post in your RSS feed. You can use this feature to add banner ads, promote affiliate/your product or put copyright notice or a link back to your blog."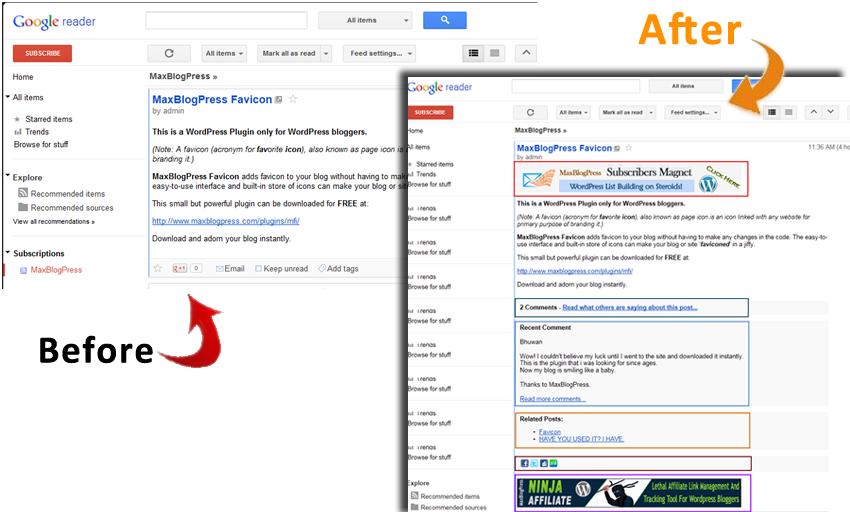 Final Thoughts
Since I started blogging I have used MaxBlogPress plugins to help build a better blog. All of their plugins work great and do what they are suppose to do. I trust their products and recommend their plugins over the competitors. The code behind each plugin is rock solid, they have an excellent support team, and their prices are reasonable.
As for Bring Back My Visitors, it's a great plugin and I love the features. I believe they will surely help bring back more traffic to your site and possibly bring new readers to the site that were tricked into hitting those content stealing sites.
So if you are ready to stop worrying about content thieves and RSS Readers not visiting your blog, its time to turn your RSS Feed into tool that will bring visitors back to your WordPress site and generate more traffic to your site.
And at the same time, protect your content and take advantage of the content thieves.
MaxBlogPress is offering a 30% discount  that will last until midnight EDT on July 18th.
With "MaxBlogPress Bring My Blog Visitors Back", you can actually do that: Benefit from content thieves by making them your free marketer - generating you free traffic & backlinks.