WordPress is one of the most popular blogging and CMS platforms available on the web. As the popularity of WordPress grows, so does the WordPress  theme design community. If you are just starting out or a non designer that just wants an awesome and bullet proof theme for WordPress, where do you go to find a good theme. Do you look for free ones? Do you search the web for freebie themes? Or do you use the default themes that comes with WordPress?
When first starting out its ok to grab a free WordPress theme from the WordPress directory. Most of the themes are great themes, but they are limited in features and you end up having to add a lot of features through plugins. But once your blog takes off you decide you like blogging, its time to go premium and take advantage of all the features available. Yes.  Evolutionary Designs (as of April 2011) is using a free premium theme, but we have put a lot of time into customizing and correcting coding issues found within our theme. In the near future we will have a new a theme (more details in the near future.)
Where to Find Premium Themes
Everyday new premium theme companies are popping up and finding them all and looking through each site can take time. Most of us would rather spend our time working on content or working with clients then look through all the themes available on the web. Wouldn't it be great if someone gathered up the best WordPress theme companies and displayed only the best themes all in one place so that it is easy to read and links back to the original site for each theme?
Today, I came up with an answer for those looking for a website where they can see all the best premium WordPress Themes available. This site is called WordPress Themes. This site has the very best premium themes from the best designers. They have themes by WooThemes, Elegant Themes, StudioPress, Thesis and Pagelines. They also just started listed themes from ThesisAwesome! All you have to do is look through the list and click on a link that directs you back to the theme's company site.
As the design community builds more premium themes, WordPress Themes will add new developers and themes to their site.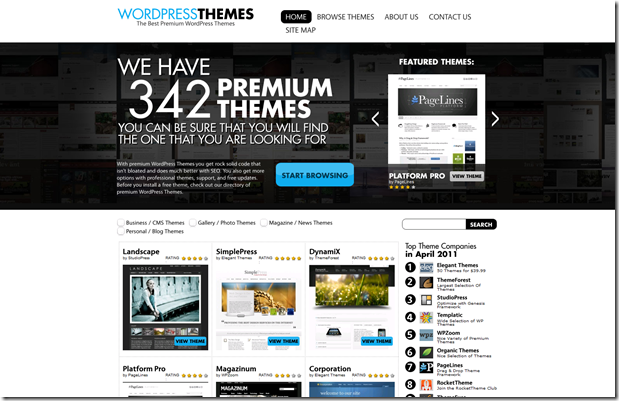 Final Thoughts
Although Thesis and StudioPress are my favorite WordPress themes, I do use other premium themes when I need to. WordPress Themes offers a beautifully designed and convenient way to look for that prefect WordPress Theme. Check them out next time you need to find another great theme!
Please follow and like us: