Disclosure: We are a professional review site that receives compensation from the companies whose products we review. We test each product thoroughly and give high marks to only the very best. We are independently owned and the opinions expressed here are our own.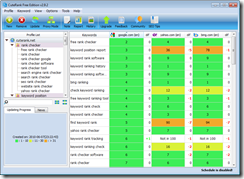 So you want to do your own SEO. You have spent your time researching on-page and off page SEO. You implemented your SEO strategy and its been a few months since you started. I bet your itching to see how well you are doing. If you are like me, then you are crazy about rankings and always want to know where you stand on your keywords.
Over the last few months my organic traffic (search engine referrals) have gone up and I have a basic idea of how some keywords are doing and that's just by using Google Analytics that show how well those keywords are doing. Since the traffic started rising, I have been trying out a variety of keyword tools and keyword rank checkers, the ones I found, I really didn't like or I would have to pay a lot of money for them. After some research, I came across a new a rank checker called CuteRank. The best part is, its free if you want to track one website. But if you have more than one domain you want to watch you can purchase the premium version and it will monitor your keyword positions for multiple sites.
What is CuteRank?
CuteRank Checker is a free keyword rank checker that runs on your desktop and will automatically track and batch your keyword positions and keyword rank performance for Google, Yahoo, Bing, Ask, and AOL. You can even create notes when you make changes to your SEO and see how those changes performed over time. For a full feature list check out the free verse paid version of the software.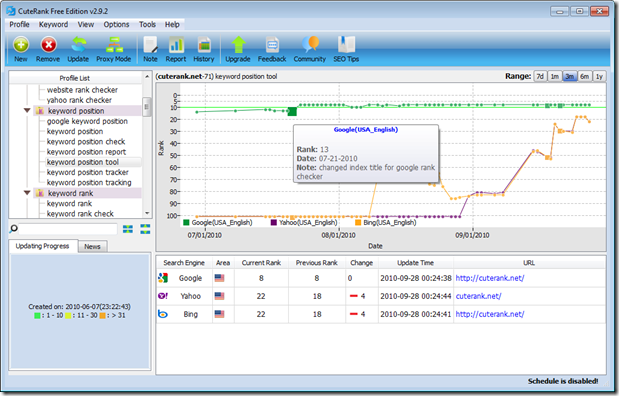 Final Thoughts
After using this tool for a few days, I have to say, its one of my favorite keyword tools. Of course, I haven't had a chance to use this tool to its full potential, and over the next few months, I plan to use, track my keywords, and test this tool to see how well it works. Once I know more, I will give a full review on. But as of right now, just on keyword tracking purposes and automatic scheduling, I recommend this tool to anyone who likes to check their keyword positions daily and would like to have the update reports sitting on your desktop when you get up in the morning.
Screenshots were taken from CuteRank.
Please follow and like us: