Disclosure: We are a professional review site that receives compensation from the companies whose products we review. We test each product thoroughly and give high marks to only the very best. We are independently owned and the opinions expressed here are our own.
Now that Microsoft finally released Internet Explorer 9 designers do not have to worry as much about their designs if they use a lot of CSS3 on their sites. With the release of IE9, all those die hard IE users can now see those killer CSS3 properties that previous versions of IE could not read. Don't get me wrong, not everyone will  upgrade and there still quite a few IE users still use IE6 and refuse to upgrade.  I for one haven't upgraded my IE browser to IE9 and I have several old test computers still running IE6 and and IE7 with no plans to upgrade them anytime soon. Since earlier versions of IE can not display CSS3, designers need to know which browsers can read and display CSS3 properly. Since CSS3 is still pretty new, most designers, myself included, can't keep track of the properties that work and do not work with certain browsers. As designers, we need a place where we can keep track of the latest updates and tutorials for CSS3.
Where Can I Find the Latest News and Tutorials for CSS3?
Recently I came across  a new site called CSS3 Files. This site is a guide to CSS3 that shares the secretes of CSS3 and updates to CSS3 as they are released. The topics (properties)  include background, border, color, font, gradient, shadow, transform, and transition. All of these properties are a big part of CSS3 and if you want to keep with the latest trends in design and CSS then this the place for you.
Once you finish with all the page topics, head over to the blog and see what else they are adding. As CSS3 grows so will CSS3. Check back often and subscribe to their RSS feed to keep up with the latest news and tutorials about CSS3.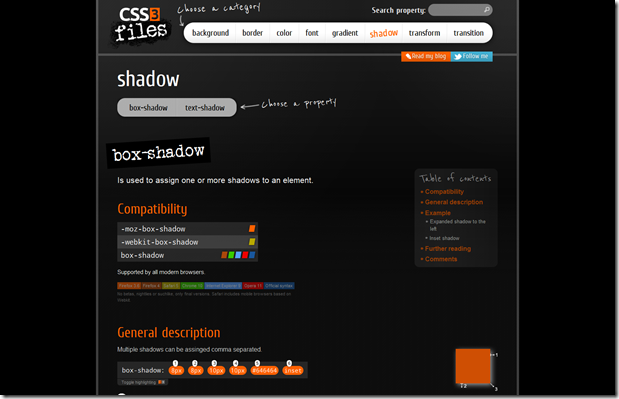 Final Thoughts
As CSS3 popularity grows, more CSS3 reference sites will popup. Currently there are quite of few of them out there. What is your favorite CSS3 site? Right mine is CSS3 Files.
Please follow and like us: